BANGKOK, July 14, 2009 (AFP) - Thailand's health authorities Tuesday reported three more swine flu fatalities, raising the country's death toll to 24 as the number of confirmed cases passed 4,000.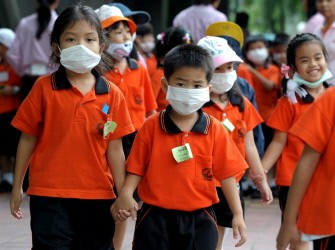 Thai pupils wear face masks during a visit to the Science Museum in Bangkok on July 14, 2009 (AFP photo)
The growing death toll prompted the cabinet to hold a special meeting to deal with the A(H1N1) virus, at which ministers will discuss shutting schools across the country as a preventative measure.
Ahead of the meeting, the Bangkok Metropolitan Administration announced the closure of its 435 schools, 200 nurseries and 13 occupational training centres, for five days from July 15.
The latest confirmed deaths included a overweight 57-year-old diabetic woman who died on Sunday, a statement from the public health ministry said.
Also on Sunday a 67-year-old woman with lung cancer died in Bangkok, and a 32-year-old overweight woman, who also had pneumonia, died in the nearby province of Samut Sakhon on Tuesday, the ministry added.
The statement confirmed 176 new swine flu cases, bringing the total to 4,057.