BANGKOK, April 20, 2010 (AFP) - Thailand's "Red Shirt" protesters on Tuesday plotted the next move in their month-long anti-government campaign, after security forces blocked plans for a march on the financial district.
Prime Minister Abhisit Vejjajiva, who is resisting calls to stand down and announce fresh elections, said the government was intent on clearing the demonstrators from their sprawling rally base in Bangkok's retail heartland.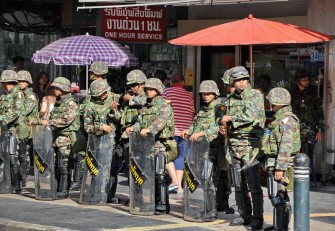 Thai soldiers stand in a line along Silom road in the financial district of Bangkok on April 20, 2010. AFP photo
But after a botched crackdown on April 10 that left 25 dead and 800 injured, he said he could not set a deadline for ending the street rallies that have caused massive disruption to business and tourism.
"Both the government and the people want this to end quickly but we have to think about many factors," he said on television late Monday. "We have to minimise the damage and do this effectively."
"We cannot set a timeframe. The government knows that the people are suffering but authorities have many elements to consider. We will do our best," he said.
Thousands of security forces, many armed with assault rifles, descended on central Bangkok Monday after the Red Shirts threatened to march from their protest base towards the nearby Silom financial hub.
"We can see the authorities have protected Silom from an invasion," Abhisit said.
The Reds have said they will announce their new protest plans on Tuesday.
Amnesty International said that this month's clashes, which left 19 protesters, five members of the security forces and one foreign journalist dead, must be investigated and those responsible held accountable.
"The military used lethal force in the operations, while some individuals among the protesters also used guns and grenades, as well as improvised weapons," Amnesty said of Thailand's worst civil unrest for nearly two decades.
The sequence of events on the night of April 10 remains shadowy. Witnesses and video footage indicated that the violence was kicked off by mysterious black-clad gunmen who both sides on the conflict have disowned.
Amnesty said the Thai government was obliged to protect the lives of all those involved in the crisis "including by exercising due diligence to prevent attacks by non-state actors".
The red-shirted campaigners, who condemn Abhisit's administration as elitist, have refused to leave their rallying base which has forced several major shopping centres to close.
The area is dotted with five-star hotels, most of which are virtually empty after days of being surrounded by the Reds' encampment which stretches for several kilometres along some of the city's main thoroughfares.
Red officials appear firmly in control of the area, mounting checkpoints, directing traffic and operating a formidable logistical base with long rows of of tents offering food, medicine and facilities for sleeping and washing.
The protesters are mainly supporters of former premier Thaksin Shinawatra, who was ousted in a 2006 coup and is now living in exile to avoid a jail sentence for corruption.
The Reds say that Abhisit's government is illegitimate because it came to power in a parliamentary vote, not a popular election, and that it is the tool of Thailand's palace, military and bureaucratic circles.
A rival faction, the elite-backed "Yellow Shirts", vowed Sunday to take action if the government fails to deal with the protesters within a week, raising fears of new clashes.
The chairman of Thailand's leading opposition party, Chavalit Yongchaiyudh, who is a Thaksin ally, said Monday he had requested an audience with the nation's revered king to help resolve the crisis.
King Bhumibol Adulyadej, 82, who has no official political role but is seen as a unifying figure, has made no public comment on this month's violence.