BANGKOK, March 18, 2010 (AFP) - Thailand's rural underclass, vying to revive flagging momentum after a week of colourful protests, appealed Thursday for a popular uprising against the well-entrenched political and aristocratic elite.
Prime Minister Abhisit Vejjajiva renewed an offer of talks with the so-called Red Shirt movement, but has stood firm against its demands for his resignation and snap elections.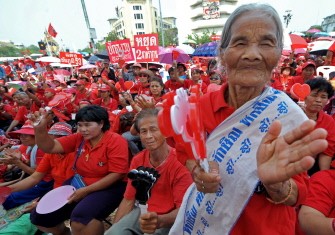 Red-shirted supporters of deposed Thai premier Thaksin Shinawatra shout slogans during an anti-government protest in Bangkok on March 18, 2010. AFP photo
Police said numbers had dwindled to 38,000 at the rally site, from more than 100,000 at the weekend, as the remaining Red Shirts sought to reach out to Bangkok's middle classes in their campaign against the all-powerful elite.
"I ask workers and government employees who feel injustice to join us," said Suporn Atthawong, a protest leader from northeast Thailand, the heartland of support for populist former prime minister Thaksin Shinawatra.
"Rural grassroots people join hands with the middle class to drive Abhisit from his post," he urged the crowds.
Leader Nattawut Saikur said the protest, which has so far been peaceful and overseen by a massive contingent of security forces, would on Saturday "spread out on every road across Bangkok to appeal to more people to join us".
"This afternoon our provincial leaders will give their political views from the stage and declare their class war," Nattawut told reporters, claiming reinforcements would also arrive from the north for Saturday's drive.
Abhisit appeared in a nationally televised address from an army barracks in the northern outskirts of Bangkok, where he has been based for most of the rally, and reiterated his offers of dialogue.
"I am ready to talk with any Red groups," he said, adding that the government was ready to discuss the dissolution of parliament "if every party agrees that the dissolution will truly lead to genuine peace".
The protesters claim Abhisit's government is illegitimate as it came to power with army backing via a December 2008 parliamentary vote, after a controversial court ruling ousted Thaksin's allies.
The Red Shirts say they are campaigning against the formidable power of Thailand's ruling class -- including military and palace officials -- whom they accuse of ousting elected governments and defending yawning social inequality.
The Reds are largely followers of Thaksin, a billionaire telecoms tycoon who lives abroad to avoid a jail term for corruption, staunchly supporting the populist policies he introduced before he was ousted in a 2006 coup.
The protesters paralysed streets on Wednesday as they fanned across Bangkok, crowding outside the US and British embassies to denounce alleged interference against Thaksin after hurling their own blood at Abhisit's house and offices.
While Abhisit offered talks, a government spokesman confirmed Thursday that the premier had also told lawyers to begin legal action against Thaksin and Red leaders for making false accusations against him.
Thaksin himself, who has spoken to the crowd via video link each night, has been in Montenegro since Saturday and has taken citizenship of the European Balkan state, Montenegrin police said Wednesday.
Rally organisers planned a day of rest and meetings for most of Thursday, followed by an evening of music and dancing -- apparently designed to keep spirits and numbers up.
But doubts about their chances of winning are intensifying.
"Though the Red Shirts have succeeded in calling attention to their agenda, the major societal forces of Thailand appear stacked against them," said Paul Chambers, a Thailand specialist at Heidelberg University in Germany.
"This includes the monarchy, soldiers in top positions, courts, the ruling coalition, and most business groups."