BANGKOK (AFP) – "Red Shirt" anti-government protesters called for UN-mediated talks on Sunday as the toll from several days of clashes with the Thai army in the capital rose to 25 dead and more than 200 wounded.
A top protest leader also urged the revered king to intervene in the crisis, which has turned areas of the city into no-go zones as troops fire live ammunition at protesters, some of them armed or using slingshots and fireworks.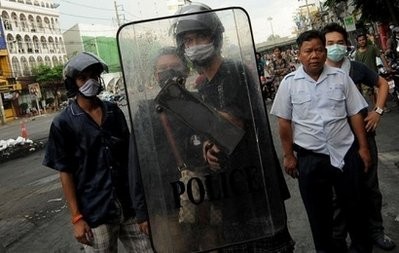 A Thai "Red Shirt" anti-government protester shields himself during clashes in Bangkok. AFP photo
"We call for the government to stop firing and to withdraw soldiers who are blocking the area around the protest site," said a Red leader, Kokaew Pikulthong.
"We call for talks with the UN as mediator."
There was no immediate response from the government, as the army put off a plan to impose a curfew in parts of the city but did not rule out restricting night-time movements if the situation deteriorates.
Authorities said they would send workers from the Red Cross to help anti-government protesters -- particularly women, children and the elderly -- who want to leave the vast protest area in the heart of the capital.
"Men can also leave the site but they have to show they are unarmed," army spokesman Colonel Sunsern Kaewkumnerd told reporters.
The army moved on Thursday to seal off the area to prevent more demonstrators entering, although they have been allowed to leave, as the government grappled with a way to end the two-month stand-off.
Sporadic gunfire continued to echo around the fringes of the Red Shirts' sprawling encampment as a swathe of the city was shrouded in black smoke after demonstrators torched piles of tyres in roads. One shop was ablaze.
Two men were shot and badly wounded during a confrontation between troops and several hundred anti-government demonstrators who threw stones, Molotov cocktails and firecrackers, said an AFP reporter.
One man died Sunday as street clashes continued, emergency services said. It was not clear how he was killed.
All of the fatalities in recent days have been civilians.
The Reds called on Thailand's king to intervene, saying he was the "only hope" for an end to the crisis, which has left more than 50 people dead and 1,600 wounded in total.
"As people in this country, we would like his kindness," Jatuporn Prompan told reporters at the rally site, where thousands of protesters were camped.
"I believe Thais will feel the same, that His Majesty is our only hope."
King Bhumibol Adulyadej chastised both the military and protest leaders during a 1992 uprising, effectively bringing the violence to an end.
But the 82-year-old monarch has been hospitalised since September and has avoided commenting directly on the current crisis in public.
The military on Saturday declared a "live fire zone" in one area where a foreign witness said he earlier saw troops fire towards a group of Red Shirts advancing with a Thai flag. Three bodies were later seen on the ground.
New York-based Human Rights Watch said Thai authorities were on a "slippery slope" towards serious human rights abuses by designating live fire zones.
Prime Minister Abhisit Vejjajiva vowed there would be no turning back on the government's policy of sealing the protesters inside their fortified camp.
"Your rally has been used by terrorists. It's not a rally for democracy," he said in his regular Sunday television address.
The Reds accuse Abhisit's government of being elitist and undemocratic because it came to power in a 2008 parliamentary vote after a court ruling ousted elected allies of their hero, former prime minister Thaksin Shinawatra.
Protesters have turned a large area of Bangkok into a virtual state within a state, crippling a retail and hotel district and disrupting daily life for residents in the city of 12 million people.
Facing a military armed with assault rifles, the protesters have fought with homemade weapons including fireworks, rockets, slingshots, and burning tyres.
An AFP photographer saw one demonstrator firing a handgun on Saturday.
Abhisit last week shelved a plan to hold early elections -- which the Red Shirts initially agreed to -- because the protesters refused to disperse.
The army warned it would move against the demonstrators' main rally site unless they disperse, but it gave no timetable for the action.
A military operation on April 10 to clear an area of the city of protesters left 25 people dead and more than 800 injured.
Thai society is deeply divided between the urban elite and rural poor, with most of the Red Shirts from the north and impoverished northeast.