BANGKOK, July 8, 2011 (AFP) - Thailand's premier-in-waiting said Friday that strict rules against insulting the monarchy should not be abused, following several high profile cases against critics of the outgoing government.
"I do not want to see the misuse of this law on lese majeste," said Yingluck Shinawatra, a 44-year-old political newcomer and sister of fugitive former premier Thaksin Shinawatra.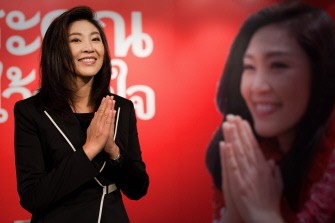 Yingluck Shinawatra makes a traditional salut during a press conference at the Puea Thai Party headquarters in Bangkok on July 8, 2011.
She called for study into the legislation under which anybody convicted of insulting the king, queen, heir or regent faces up to 15 years in prison.
"This article is a very sensitive law that requires expert legal discussion. I will ask experts and all relevant people to study it," she said.
King Bhumibol Adulyadej, 83, the world's longest-reigning monarch and revered as a demi-god by many Thais, has been in hospital since September 2009.
Discussion of the monarchy's role is a long-standing taboo in politically divided Thailand. Rights groups have expressed concerns that lese majeste was used to suppress freedom of expression under the outgoing government.
In April the military -- which has a long history of political involvement -- filed a complaint against three leaders of the opposition "Red Shirt" protest movement for allegedly insulting the royals during rally speeches.
The army, which sees itself as the staunch guardian of the monarchy, launched a bloody crackdown last year on a two-month protest by the red-clad movement, leaving about 90 people dead, mostly civilians.
The Red Shirts are broadly loyal to Thaksin, who was ousted in a 2006 coup and lives in self-imposed exile to avoid a jail term for corruption.
Controversy over the royal rules was stoked in May when prominent Thai historian Somsak Jeamteerasakul, who has tested taboos with calls for reform of the monarchy, was charged with lese majeste.
His arrest prompted a letter of protest by more than 50 Thai and foreign academics living outside the kingdom against what they called "the latest signal of the worsening atmosphere of freedom of expression in Thailand".
The same month a Thai-born US citizen was charged with insulting the monarchy after he posted material deemed offensive on his blog and put a link to a banned book.
In recent years the Thai government has removed tens of thousands of web pages from the Internet for allegedly insulting the monarchy.