BANGKOK, July 13, 2011 (AFP) - Thai prime minister-in-waiting Yingluck Shinawatra said Wednesday that she was confident that alleged campaign irregularities which are holding up her appointment would be dismissed.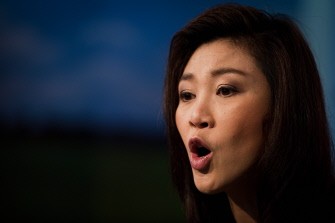 AFP file - premier-in-waiting Yingluck Shinawatra
Thailand's Election Commission on Tuesday put off a decision on whether to approve Yingluck and 141 other candidates, including outgoing premier Abhisit Vejjajiva, as members of the 500-seat lower house.
"There's still time left under the law. I think the EC is trying to finish its investigation," she said. "I hope and am confident that the EC will treat me and my Puea Thai Party with fairness and justice."
Any move to disqualify Yingluck -- the sister of fugitive ex-premier Thaksin Shinawtra -- would infuriate the opposition "Red Shirt" protest movement that was behind mass rallies in Bangkok last year that turned deadly.
Yingluck has formed a six-party coalition that will control about three fifths of the lower chamber.
The new parliament must convene within 30 days of the July 3 election to select a house speaker, and has another 30 days to pick a prime minister.
The election commission is investigating complaints by Abhisit's Democrat Party that banned politicians such as Thaksin were involved in its rivals' campaign, whose slogan was "Thaksin thinks, Puea Thai does."
Yingluck has denied the accusations, saying she received only guidance from her brother, who was ousted in a 2006 coup and lives in self-imposed exile to avoid a jail sentence for corruption.
"He merely offered ideas and advice but was not involved in the party administration and decisions," she said of Thaksin, who is widely seen as the de facto opposition leader.
The election commission has rejected a separate complaint that Yingluck sought to buy votes by giving away noodles she cooked during campaigning.
Two Thaksin parties have been dissolved by the courts in the past and their top executives, including the former leader, were banned from politics.
Abhisit is also being investigated by the poll body over complaints that the sale of discount goods at a fair he attended constituted vote buying.
He said he was surprised by the EC announcement, but confident he had not breached regulations.
"I am not worried and I'm ready to explain every case because I was not breaking any law," he told reporters.
He called on Yingluck to tell the Red Shirts not to pressure authorities, after about 100 members of the movement gathered peacefully in support of her Puea Thai party outside Tuesday's election commission meeting.
"They should stop, and I want Yingluck to clearly state that she does not support this kind of behaviour, otherwise conflict will be unending," he said.
The commission is due to announce further endorsements of candidates on July 19.