Embattled Thai Prime Minister Yingluck Shinawatra on Thursday vowed to stay on and fight the country's deadly flood crisis despite criticism of her handling of the disaster.
"People supported and voted for me so I want to continue my work to the best of my ability," she told reporters when asked whether she was considering resigning.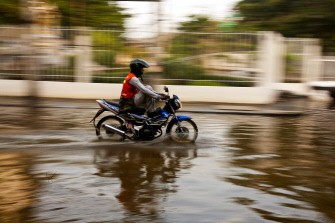 A motorist rides a scooter through floodwater in Bangkok on November 10, 2011.
The floods, triggered by months of unusually heavy rains, have killed 533 people and damaged the homes and livelihoods of millions around the country.
The waters are now slowly closing in on the heart of Bangkok, a city of 12 million people, swamping major roads and threatening the downtown area's luxury hotels, businesses and shopping malls.
Visiting a shelter for flood evacuees in Bangkok's Chatuchak district, Yingluck pleaded for understanding from the public.
"I want to ask for sympathy for all the officials who are working to fight the floodwaters, and as for me I will do my best and will listen to all suggestions," she said.
Yingluck, a political novice and sister of fugitive former premier Thaksin Shinawatra who only came to power in August, has been under enormous pressure to tackle the three-month-old crisis.
Her administration has also come under fire for its confusing information about the extent of the flood threat.
The 44-year-old premier has shown signs of emotional strain in recent weeks but she hit back at critics who chided her for appearing teary-eyed during visits to flood-hit zones.
"My tears flow not because I am weak -- otherwise I would not have come this far. I would have quit a long time ago," she said on her way to another evacuation centre later in the day.
"It's normal to feel overwhelmed when I see people suffering," she said.
After three months in office, Yingluck's government scored an approval rating of about 48 percent, according to a nationwide survey of 1,168 people published by Bangkok University on Tuesday.
"So far she has run the country without direction or decisiveness," said Chavanond Intarakomalyasut, a spokesman for the main opposition Democrat Party, which has stopped short of calling for Yingluck's resignation.
The ruling Puea Thai party, meanwhile, rallied around the premier, whose older brother Thaksin is seen as the de facto party leader, dismissing rumours that some members wanted her to stand aside.
"Party executives and core leaders are happy with her work and always offer support," said spokesman Pormpong Nopparit.