BANGKOK, March 15, 2010 (AFP) - Thailand's prime minister Monday rejected an ultimatum by tens of thousands of red-shirted protesters to call snap elections as they descended on a military barracks where the government was holed up.
The demonstrators, loyal to ousted premier Thaksin Shinawatra, said Prime Minister Abhisit Vejjajiva would face mounting protests unless he gives in, prompting the military to boost troop numbers and ready evacuation plans.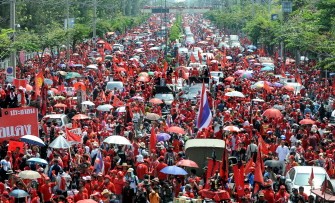 Red-shirted supporters of deposed Thai premier Thaksin Shinawatra wave flags and shout slogans during an anti-government protest outside a military baracks in Bangkok on March 15, 2010. AFP photo
Dressed in pro-Thaksin red, the peaceful protesters massed in front of the 11th infantry army barracks on Bangkok's northern outskirts to press their demand for Abhisit to dissolve parliament by 0500 GMT.
But in a nationally televised address from the barracks, where ministers and military top brass were gathered, he said "the coalition parties agree the demand cannot be met".
"Elections must be held under common rules and genuine calm. We have to listen to other people's voices, not just the protesters," the prime minister said.
The Red Shirts, many from poor and rural northern areas, are loyal to populist former prime minister Thaksin, who was ousted in a coup in 2006 and is living abroad, mostly in Dubai, to avoid a jail term for corruption.
Last month Thailand's top court confiscated 1.4 billion dollars of the telecoms tycoon's wealth. He addressed the crowd from an undisclosed European location by video link late Sunday, urging his supporters to press on.
Abhisit left the army base by helicopter immediately after his televised announcement, saying he wanted to inspect the city traffic, snarled up by the moving rally.
At least 86,000 protesters had been gathered since Saturday at a downtown rally site, where soldiers and riot police have been deployed under a strict security law that allows authorities to ban gatherings and impose curfews.
In total, authorities said, a 50,000-strong security force was on hand across Bangkok and surrounding provinces.
Protest leader Veera Musikapong said they would slowly return to the main rally ground close to government offices in the city's historic quarter after Abhisit refused their demands, and leaders would meet to plan their next move.
Veera exchanged friendly words with a military official across the barracks' wall, as both sides sought to avoid confrontation.
"The soldiers are friends of the people and won't hurt the people," an unidentified military official told the Red Shirts through a loudhailer.
Thai army spokesman Colonel Sunsern Kaewkumnerd said about 2,000 soldiers were manning the barracks with three helicopters on standby to whisk leaders away if needed.
He said the demonstrators could remain but must not trespass, and said rubber bullets would only be fired on the crowd as a last resort.
Twice-elected Thaksin is loathed by Bangkok's establishment, which accuses him of corruption and disloyalty to the revered royal family.
Since the coup in 2006, Thailand has been wracked by a string of protests by the Red Shirts and their rival Yellow Shirts, whose campaign in 2008 led to a crippling nine-day blockade of the country's airports.
The current rally is the largest in Bangkok since the Reds rioted in April last year, leaving two people dead and scores injured.
Some bank branches and schools in the city were closed as the protest picked up pace over the weekend.
The Red Shirts travelled in convoy to the barracks in trucks, buses, cars and pick-up trucks.
The pro-Thaksin forces had dubbed their rally a "million man march" but police estimated their numbers reached only 86,000. Protest leaders gave various figures all far higher than 100,000.