BANGKOK, May 23, 2010 (AFP) - Thailand's Prime Minister Abhisit Vejjajiva indicated Sunday that a curfew enforced after anti-government protests were forcibly dispersed would be extended for two days.
"Regarding tonight and tomorrow night, there will be an announcement about a curfew," Abhisit said in a regular television address.
Abhisit said that emergency authorities were considering the timing of the curfew, but that it was likely to start at 11:00 pm or midnight, and run through to 5:00 am -- shorter than previously.

The capital and 23 other provinces have been under four nights of curfew as the government quelled mayhem that broke out after the "Red Shirts" rallies were disbanded in a military offensive.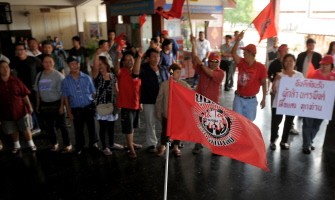 This picture taken on May 21, 2010 shows Thai "Red Shirt" supporters waving flags as they welcome "Red Shirts" protestors arriving from Bangkok at the train station in Chiang Mai, around 700kms from Bangkok. AFP photo