BANGKOK, July 1, 2011 (AFP) - Thailand's first superstar premier Thaksin Shinawatra was a hard act to follow. But current leader Abhisit Vejjajiva has found it particularly difficult to emerge from his rival's shadow.
British-born Abhisit, the head of the establishment-backed Democrat Party, is the mirror image of former billionaire telecoms tycoon Thaksin, who swept to power a decade ago by capturing the support of the rural poor.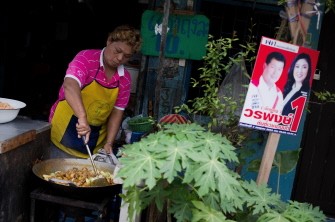 AFP - A woman cooks food on a street next to a campaign billboard for Pheu Thai party candidate Yingluck Shinawatra, the youngest sister of ex-prime minister Thaksin Shinawatra, ahead of the upcoming July 3 general election in Bangkok on June 30, 2011.
Thaksin, who lives in exile after being removed in a 2006 coup and convicted in his absence of corruption, remains wildly popular in the vast northern hinterlands for his populist policies while in power.
The former policeman now looks to be on the verge of a remarkable comeback with his youngest sister and political proxy Yingluck Shinawatra the frontrunner to become prime minister in a closely fought election on Sunday.
In contrast to his rival, 46-year-old Abhisit often comes across as aloof and awkward, more at ease mingling with international leaders or corporate CEOs than ordinary voters.
"I think he comes across as a very cold leader in an ivory tower," said Thai academic Pavin Chachavalpongpun, from the Institute of Southeast Asian Studies in Singapore.
"He looks so uncomfortable every time he goes to the rice fields."
The scion of an influential family whose name means "privilege", Abhisit was born in the northern English city of Newcastle while his parents were studying medicine.
His CV includes an elite education at Britain's Eton College and Oxford University.
Abhisit stormed into political life in 1992 when, aged 27, he became the youngest person to win a seat in the Thai parliament.
He rapidly climbed the ranks in Thailand's oldest party with a reputation for clean politics and an idealism rarely seen here.
Abhisit declared his ambition to be prime minister as far back as 2006 when a movement first began against then-premier Thaksin.
His chance came in 2008 when he took office in a parliamentary vote after a court ruling threw out the previous administration.
He pledged to reconcile the nation after years of political unrest, but under his watch the country's divisions have only deepened, and he is accused by his foes of being an unelected puppet of the military and the establishment.
His party has also failed to expand its traditional base in Bangkok and southern Thailand to reach out to voters in impoverished parts of the rural north and northeast.
Despite being the country's oldest party, the Democrats have not won a general election in nearly two decades and polls suggest it is unlikely to reverse the trend this weekend.
In an interview with AFP just days before the vote, Abhisit defended his record during a premiership marked by street protests and a military crackdown on an anti-government rally last year that left about 90 people dead.
"I am confident that what we've done for the country has been the right thing," he said.