BANGKOK, Aug 3, 2011 (AFP) - Thai lawmakers are set to vote in the country's first female prime minister on Friday, a parliament official said Wednesday, after she rode to election glory on the coat-tails of her fugitive brother.
Yingluck Shinawatra, whose Puea Thai party and its partners command a three-fifths majority in the lower house, will face a vote days after the parliamentary session was opened, secretary-general Pitoon Pumhiran told AFP.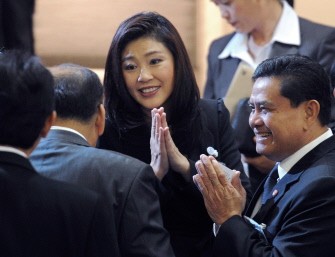 AFP - Yingluck Shinawatra (C) gives a traditional greeting to members of parliament as they attend the vote for a house speaker in parliament in Bangkok on August 2, 2011
The political novice tipped as the "clone" of her brother, the former premier Thaksin Shinawatra, faces the challenge of bringing stability to the kingdom after five years of political turmoil since he was removed in a military coup.
Parliament's vote on Friday is considered a formality in the selection of Yingluck, whose party won a thunderous majority in the July 3 election and has enlisted the support of several smaller parties in a coalition.
Yingluck will have to wait for a royal endorsement before she can officially take power.
She will become Thailand's 28th prime minister, replacing outgoing leader Abhisit Vejjajiva, whose Democrat Party limped to a distant second in the election.