BANGKOK, July 4, 2011 (AFP) - Thailand's military accepts a landslide election win by allies of Thaksin Shinawatra, who was toppled by the army in a 2006 coup, the outgoing defence minister said Monday.
Thaksin's overthrow sparked years of turmoil and a series of street protests by rival political factions. His party staged a stunning comeback in Sunday's election, forcing outgoing premier Abhisit Vejjajiva to concede defeat.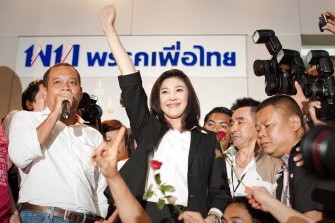 AFP - Yingluck Shinawatra, opposition Puea Thai party candidate and sister of Thaksin Shinawatra, celebrates her victory at the party headquarter in Bangkok on July 3, 2011.
"I have talked to military leaders. We will allow politicians to work it out. The military will not get involved," General Prawit Wongsuwon told AFP.
"The people have spoken clearly so the military cannot do anything. We accept it."
The military is a constant wildcard in a nation that has seen almost as many coups as elections.
Political observers had said that a close result in Sunday's vote could have fuelled a fresh round of street protests or military intervention.
But a clear win by the opposition will make it harder for the generals to justify seizing power again.
"Let the elected politicians work. We cannot chase them away. They haven't doing anything wrong," Prawit said.
A key issue for the military is whether the new government tries to pursue legal or other steps against the generals for a bloody crackdown last year on opposition protests that left more than 90 people dead, mostly civilians.
But Thaksin has said he is not seeking "revenge" against his foes in the armed forces, who see themselves as the guardian of the revered monarchy.