A Thai appeals court on Friday granted a request by the United States to extradite Viktor Bout, an alleged Russian arms dealer dubbed the "Merchant of Death", on terrorism charges.
Bout, said to have inspired the Hollywood film "Lord of War" starring Nicolas Cage, has been fighting extradition since his March 2008 arrest in Bangkok in a sting operation involving US agents.
He faces life in prison if convicted in the United States on terrorism charges, including conspiracy to kill US officers or employees and conspiracy to acquire and use an anti-aircraft missile.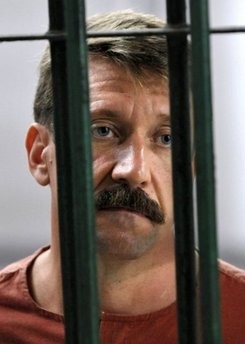 A Thai appeals court on Friday granted a request by the United States for the extradition of Viktor Bout (pictured), an alleged Russian arms dealer dubbed the Merchant of Death.…
His young daughter -- who attended the hearing accompanied by his wife -- broke down in tears after the court delivered its ruling.
"The court has decided to detain him for extradition to the US," judge Jitakorn Patanasiri said, overturning a ruling last year by a lower court which had refused to send him to the United States.
"This case is not political, it is a criminal matter," the judge said.
The Russian refused to talk to journalists as he was led out of court shackled at his wrists and ankles.
The United States had pressed Thailand to hand over Bout.
The US State Department called in Thai ambassador Don Pramudwinai this week "to emphasise that this is of the highest priority of the United States," spokesman Philip Crowley told reporters on Thursday.
"We believe that we've presented significant evidence to justify his extradition to the United States," he said.
US lawmakers had urged the ambassador to let authorities in Bangkok know that rejecting the request would harm ties with Washington and said the kingdom's judiciary handling of the case had not been "fair and transparent."
"We find the potential release of a man responsible for countless deaths of innocents in Africa and elsewhere simply astounding," said the group, led by House Foreign Affairs Committee Howard Berman, a Democrat.
"More so as there is little doubt that he would return to his deadly trade, arming those targeting US and Thai interests around the globe," they said in a letter delivered to the Thai embassy in Washington on Wednesday.
A US indictment accuses Bout of using a fleet of cargo planes to transport weapons and military equipment to Africa, South America and the Middle East.
During an undercover operation, Bout allegedly agreed to supply surface-to-air missiles to US anti-drug agents posing as rebels from Colombia's Marxist FARC group, which Washington considers a terrorist organisation.
A Thai criminal court ruled in August 2009 that it did not have the authority to extradite Bout because FARC was not listed as a terrorist group in Thailand -- a decision praised by Moscow.
Bout, a 43-year-old former Soviet air force pilot, speaks six languages and is known by eight different aliases.
The nickname "Merchant of Death" was coined by a former British foreign office minister and also used for a 2007 book on Bout's alleged activities.
Bout, who has been held at a maximum-security prison outside Bangkok, has denied the charges and says that he ran a legitimate air cargo business.