Thailand's army warned Thursday it would seal off a protest site in the capital with armoured vehicles, turning up the heat on defiant "Red Shirts" as the premier shelved a plan for early elections.
Hopes were fading of an imminent resolution to a crippling two-month crisis that has sparked several outbreaks of deadly unrest and brought parts of Bangkok to a standstill.
"I have cancelled the election date... because protesters refuse to disperse," Prime Minister Abhisit Vejjajiva told reporters. "I have told security officials to restore normality as soon as possible."
An army spokesman said security forces would surround the anti-government protest site in the heart of Bangkok with armoured vehicles from 6:00 pm (1100 GMT) to prevent more demonstrators entering the area.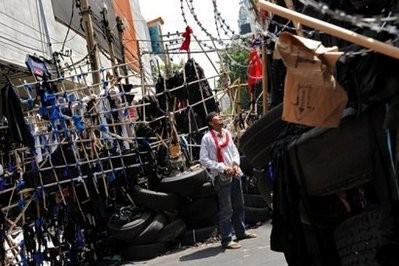 A 'Red Shirt' anti-government guard looks up as a helicopter hovers over their fortified camp in Bangkok on May 13, 2010. Thailand's army warned Thursday it would seal off the protest site in the capital with armoured vehicles
"No one would be allowed in," the spokesman, Colonel Sunsern Kaewkumnerd, told AFP. "Snipers will be deployed in the operation."
He said troops would be authorised to use live ammunition for warning shots, self-defence and against "armed terrorists."
The authorities have asked businesses around the protest area on Ratchaprasong intersection to stop operations Friday until the situation returns to normal, Sunsern added.
The planned move was announced after authorities failed to carry out a threat to cut off utilities to the protesters at midnight Wednesday although Abhisit said Thursday that the action would still go ahead.
The embattled premier had offered to dissolve parliament in the second half of September for elections on November 14 if all parties accepted his reconciliation plan.
The Reds, who have been protesting in Bangkok for two months in a campaign for early elections, initially agreed to enter the process but efforts to reach a deal that would see them go home have since broken down.
Twenty-nine people have been killed and almost 1,000 injured in Bangkok in a series of confrontations and attacks since the protests began in mid-March. It is Thailand's worst political violence in almost two decades.
The movement says it will not disperse until Deputy Prime Minister Suthep Thaugsuban is charged for his role in overseeing a failed April 10 crackdown that left 25 people dead, including 20 protesters.
Red Shirt leader Weng Tojirakarn said Thursday that scrapping the election and dissolution of parliament was a betrayal of the Thai public.
"The government has committed political suicide if there is no election," he said on a stage at the Reds' fortified camp in a retail district, where several shopping centres and hotels have been forced to close temporarily.
Another Red Shirt leader, Nattawut Saikuar, said that while the protesters remained committed to the election and dissolution, "justice" was their number one priority.
"Justice for more than 20 of our people who lost their lives is most important while dissolution and election are a very small issue," he said.
The Reds, whose heartland is in the impoverished rural northeast, say the government is undemocratic because it came to power in a 2008 parliamentary vote after a court ruling ousted elected allies of their hero, former prime minister Thaksin Shinawatra, who was unseated in a 2006 coup.
Arrest warrants have been issued for many of the top protest leaders and observers say disagreement between the two sides over a possible amnesty is likely to be one of the main sticking points.
Weng denounced the government threats to cut off food, water and power supplies to the rally site where thousands have set up camp.
He called on more protesters to join the rally, and challenged the military to go ahead with a crackdown, saying "if you want another 300, or 3,000 dead bodies please come, but Thailand will be not be the same."