The Thai army said Saturday it plans to move against anti-government protesters' sprawling base in the capital if they do not disperse, but gave no timetable for taking the action.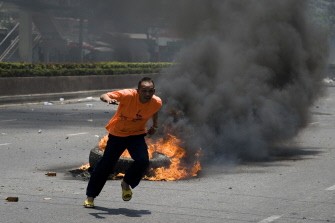 A 'Red Shirt' anti government protester runs in a street as he faces Thai soldiers (not seen) during ongoing clashes in Bangkok on May 15, 2010. (AFP Photo)
"There is a plan to crack down on Ratchaprasong if the protest does not end," said army spokesman Sunsern Kaewkumnerd, referring to the area in Bangkok occupied by protesters.
"But authorities will not set a deadline because without effective planning there will more loss of life."
At least 17 people have died in clashes between "Red Shirt" protesters and troops since late Thursday, when the army began blocking roads on the perimeter of the Red Shirt camp in a bid to seal it off.
"The containment plan is not 100-percent effective. There are still some people who manage to enter the protest site but the measure has been able to halve the number of protesters," he said.
Panitan Wattanayagorn, the government's spokesman, said 6,000 Red Shirts remained at the site.
Thai "Red Shirt" protester Sakda Sudtae stood guard at two-metre-high barricades made from bamboo, tyres and razor wire Saturday, nervously fingering a slingshot on his belt.
"I'm not sure what's going to happen," said the 33-year-old from northeastern Thailand, the morning after his anti-government group's latest clashes with security forces left at least 16 people dead.
"I'm afraid, but I have no choice. All of us are afraid to die," he added.
A burnt-out bus stood down the street outside the barricade. Soldiers have moved to seal off the area around the protest site, which sprawls across four kilometres (2.5 miles) of central Bangkok.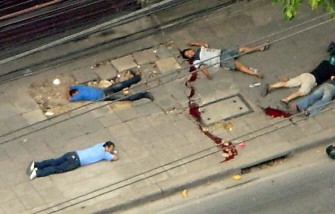 A slain Thai woman (top R) lies on the ground along with injured people following fresh street battles between troops and protestors, near an anti-government protest site in downtown Bangkok on May 15, 2010. (AFP Photo)
Gunfire and explosions have rung out around the Red zone, where troops have stepped up security measures to search for weapons and reduce the number of people entering the area.
Government spokesman Panitan Wattanayagorn said the lockdown had proved effective because the number of protesters at the main encampment had fallen to 6,000 on Friday night. Children and the elderly appeared to have left the area.
One of the Red Shirts' own "security guards," 35-year-old Dang Thongyu from northern Thailand, blamed troops for the recent spike in violence.
"We don't mind being cordoned off like this. We're happy to stay in here, but the military has to step back a bit. Instead, they're moving in," he said.
"Both sides were testing one another and got closer and closer so inevitably, something happened," he added.
The barricade guards are the first line of defence for rallies that began in mid-March, inspired by a new political awareness among Thailand's rural poor that has found increasing support among others displeased with elites.
The Reds condemn the current administration of Prime Minister Abhisit Vejjajiva as illegitimate because it came to power with army support in a 2008 parliamentary vote, two years after a coup ousted populist prime minister Thaksin Shinawatra.
Red guards, wary of snipers, on Saturday morning stretched black fabric to shield a footbridge over their barricades.
On the bridge lay piles of energy-drink bottles and stones ready to be thrown at advancing troops. Reds have also stashed a bottle of motor lubricant and a bag of mung beans to make the road slippery.
"With military boots, they will have problems," said 42-year-old Somchai Sanwong as he manned the barricades, but acknowledged: "We are all very afraid."
"Obviously we're outgunned, outnumbered. In the worst case, if the soldiers come, we'll just burn the barricades," he added.
Their movement remained largely peaceful until April 10 when security forces failed in an attempt to disperse the protesters from the city's historic district, leaving 25 dead and more than 800 injured.
The Red Shirts then shifted their rally base to Bangkok's upscale retail heartland, forcing mass closures of shopping malls and hotels. Fearful residents have left the area in the face of increased shootings and explosions.
"All my tenants have moved out, temporarily. But for how long does this bloody thing go on?" said Prapa Smutkojob, owner of a pair of apartment buildings within the Red zone.
Down from one barricade, inside the protest area, a handful of residents set up a small barrier of their own to prevent Reds from retreating down their side street.
"When the military pushes people this way, they'll look for a place to escape. We don't want them here," said 30-year-old resident, Piboon Lapchareen.
"They come with weapons and inflammable things and the soldiers will come after them, so you can imagine what would happen," he added.
On the other side of the barricades, tyres and a garbage truck burned while gunfire rang out on Rama IV road. Ladda Monokalchamvat, 46, and her daughter were dragging suitcases with the help of a doorman.
"I'm leaving my condominium. They've switched off all the lights and we don't have any food. I'm moving to my parents' place," she said. "The last two nights have been the most dangerous. That's why we're leaving."