BANGKOK, March 17, 2010 (AFP) - Thousands of Thai anti-government protesters picketed the US embassy in Bangkok Wednesday, accusing American intelligence officials of bugging exiled former prime minister Thaksin Shinawatra.
The red-shirted demonstrators, who have been calling on the government to step down since beginning mass protests at the weekend, moved to the embassy in central Bangkok following another protest at the prime minister's residence.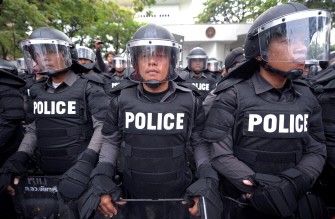 Thai riot policemen stand guard as supporters of deposed Thai premier Thaksin Shinawatra protest at the US embassy in Bangkok on March 17, 2010. AFP photo
They said the United States had accused Thaksin of inciting violence after intercepting phone calls by the billionaire former leader.
The rumour, which first appeared in Thai media on Tuesday, started spreading after deputy prime minister Suthep Thaugsuban told reporters that foreign intelligence had warned of violence.
He did not mention the United States specifically, although the Thai press and Red Shirt leaders did.
"The US must clarify Suthep's remark when he said that the US bugged Thaksin's phone, and claimed that Thaksin will commit sabotage," Red Shirt leader Jatuporn Prompan told the crowd atop a truck outside the embassy.
Jatuporn then submitted a letter to an embassy representative with six other Red Shirts before the group began to depart.
US embassy spokesman Michael Turner told AFP that officials had been given advance warning of the protest.
"The Thai police have increased their presence here. It seems to be going peacefully," he said, declining to comment on intelligence matters.
Thaksin was ousted in a coup in 2006 and lives in exile to avoid a two-year jail term for graft at home, where his followers are largely from the poor rural north and fervently support the populist policies he introduced.
Earlier a group of his backers poured hundreds of litres (pints) of their own blood at the gates of Prime Minister Abhisit Vejjajiva's Bangkok residence.
Police said more than 10,000 protesters remained in the capital Wednesday, down significantly from the rally's peak of 100,000-plus at the weekend.