A fire and chemical explosion at a Texas fertilizer plant in a small town north of Waco, Texas, sent at least 180 people to hospitals, flattened homes and prompted widespread evacuations.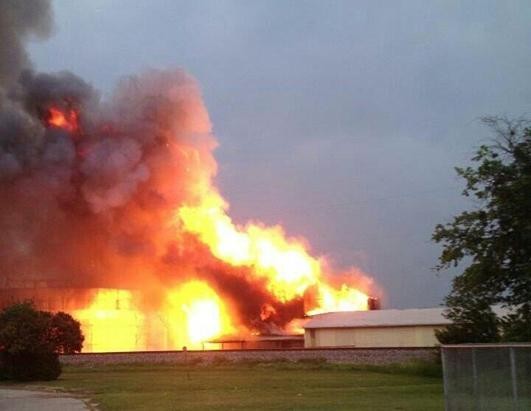 A fire is seen following an explosion at a fertilizer plant in West, Texas, on April 17, 2013.
The blast Wednesday evening at the West Fertilizer Plant in West, Texas, killed an estimated five to 15 people, said Sgt. William Patrick Swanton of the Waco Police Department, who was relaying information to the media.
"I know that's a rough estimate," Swanton told reporters, "but that's the best that I can give you."
West EMS Director Dr. George Smith, himself injured and bloody, said that though he had not personally seen bodies to confirm deaths, he believed the blast killed at least two emergency responders to a fire at the plant before the initial explosion and a person at a nearby apartment complex that suffered serious damage.
In addition, some responders to the fire before the explosion were believed unaccounted for, according to Smith, Swanton and West Mayor Tommy Muska.
Officials early this morning still were going door-to-door searching for survivors in the blast zone.
They were treating the site of the explosion as a crime scene.
"We are not indicating that it is a crime but we don't know," Swanton said. "What that means to us is that until we know that it is an industrial accident we will work it as a crime scene. ATF [the federal Bureau of Alcohol, Tobacco, Firearms and Explosives] is conducting the main investigation."
Concerns about potentially dangerous ammonia fumes emanating from the plant were subsiding this morning as fires died down, Swanton said before 6 a.m. ET, despite a forecast of shifting winds that could have spread fumes in new directions today.
Witnesses reported heavy fire or concussive damage to a middle school, homes and an apartment complex near the plant, as well as to a nursing home, where more than 130 residents were evacuated, according to Muska.
Buildings in a radius of about five blocks around the plant -- including perhaps 75 or more homes -- were heavily damaged by the blast, officials said.
"It was almost tornadic in effect," Swanton said. "It looked like to me one home would be fine and next to it there would be extreme devastation."
State Trooper D.L. Wilson of the Texas Department of Public Safety described the initial fertilizer plant blast as "massive -- just like Iraq, just like the Murray Building in Oklahoma City. The same kind of hydrous [ammonia] exploded, so you can imagine what kind of damage we're looking at."
The blast even registered as a 2.1 magnitude seismic event, according to the U.S. Geological Survey.
It was felt 20 to 30 miles away, witnesses said, and near the plant burned buildings, knocked down people, blew out windows and, according to Wilson, left the damaged apartment complex looking like "just a skeleton standing up."
"It's total chaos," West City Councilwoman Cheryl Marak said soon after the blast, according to ABC News Radio. "There's ambulances and fire trucks and police cars from everywhere."
Marak told ABC News that the explosion killed her pet dog and destroyed her house approximately 2 1/2 blocks from the plant, as well as houses around it.
"With the explosions, the whole street lifted up," she told ABC News. "It was like a massive bomb went off. It demolished both my houses -- my mother's and mine."
"I think everything around us is pretty much just gone," she added, according to ABC News Radio.
Keith Williams, a local resident, said his house also was destroyed.
"All the ceilings are out," Williams said, according to ABC News Radio. "The windows are out. The brick's knocked off the house. My big garage out back is half blowed in."
He also saw "people with all their houses tore up across the street from me, on each side of me."
By 5:45 a.m. ET, hospitals near the blast site reported treating 180 people. At least 16 patients at the hospitals were in critical condition and 3 in serious condition.
Hillcrest Baptist Medical Center in Waco, Texas, saw more than 100 of the wounded, officials there said. Patients from the blast also were confirmed early Thursday at Providence Healthcare Network in Waco, Parkland Hospital in Dallas, and Scott & White Memorial in Temple, Texas.
The fertilizer plant exploded around 7:50 p.m. local time Wednesday, according to the Texas Department of Public Safety.
Emergency response audio told the story of the chaos among firefighters and others at the scene.
"We need every ambulance we can get this way," said one snippet. "A bomb just went off. It's pretty bad."
"Firefighters down," said another. "There has been an explosion."
"The rest home has been seriously damaged. We have many people down. Please respond."
There were subsequent explosions around 10 p.m., ABC News affiliate WFAA reported. The cause of the explosions was unconfirmed, but a dispatcher was heard warning crews to move away from chemicals in unexploded tanks.
Though most fires were contained early Thursday, officials said, they continued to burn.
"It was smoldering still and it still is active," Wilson said around 1 a.m. ET. "You know other ingredients [are] at the facility, so we don't want that to explode again. So right now we can't get firefighters in there. We're worried about people right now, not property.
"We're gonna go back in and do another house-to-house search and see if anybody else, victims, are in the houses," Wilson said. "That's going to be going on all night."
The town of West has a population of about 2,800.