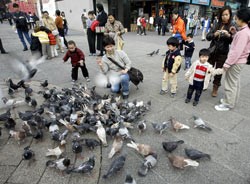 This file photo dated 30 January 2004 shows parents and children playing with pigeons in Hong Kong (AFP Photo)
Early results of tests being carried out on the carcass of a wild bird found in Hong Kong indicated it was infected with H5 avian influenza, the government said Thursday.
Six carcasses of a local species of wild bird called scaly-breasted munia were found in the busy shopping area of Causeway Bay on Sunday.
Only one tested positive for the virus, but further tests were being conducted on all six, said Thomas Sit, assistant director of the agricultural department.
Sit said winter time was the migratory bird season, posing higher risks for bird flu.
"I suspect many animal health authorities around the world (believe) that migratory birds may be the first to carry the viruses," he said.
While he reminded the public to observe good personal hygiene, Sit said patrols around wet markets -- where the dead infected bird was found -- would be stepped up.
He urged local farmers, pet traders and owners to take necessary precautionary measures and avoid contact with wild birds.
Sit said inspections would also be stepped up in villages, where poultry might be kept. A curb on so-called backyard farming was enacted last year following the discovery of eight birds and chickens that had died of the H5N1 virus.
Hong Kong was the scene of the world's first reported major bird flu outbreak among humans in 1997, when six people died of the then unknown mutation of the avian flu virus.
Experts fear the virus could mutate into a strain that could be transmitted easily among humans, causing a global pandemic that could kill millions of people.