Baking in a July heatwave, Athens' Syntagma Square seems a world removed from violent clashes between protesters and police that marked a key chapter in

Greece

's unfolding debt crisis last month.
At the time, besieged parliamentarians approved a new round of austerity cuts under pressure from the European Union and the International Monetary Fund who had threatened to cut off Greece's loan lifeline.
But the Greek state's money problems did not go away, and neither will the protesters who have occupied the central square facing parliament since May -- though their numbers have been drastically cut down by temperatures exceeding 38 degrees Celsius (100 Fahrenheit) in recent days.
"We won't leave, the fight will go on in September," says Dimitris, a young self-styled anarchist, standing among a motionless tent camp.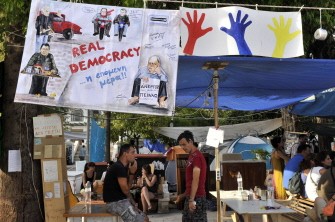 Protesters sit at central Athens occupied Syntagma (constitution) square, at the opposite of the parliament building on July 20, 2011 as demonstrators reject to vote by deputies last month of a new package of sweeping austerity cuts requested by Greece's international creditors.
On Wednesday, on the eve of an EU summit that could shape Greece's future as well as that of the embattled eurozone, the square is more striking for the constructions, placards and slogans left behind by the protesters, who have ignored calls by the Athens mayor to clear the area.
A row of six nooses faces parliament in a macabre message to deputies who approved the cuts worth over 28 billion euros ($40 billion) by 2015.
And a poster pokes fun at US-born Socialist prime minister George Papandreou, calling him the "employee of the month" of the International Monetary Fund, which last year was invited to participate in an unprecedented rescue of eurozone member Greece.
More tourists than protesters cross the square at the height of the busy travel season, and some of them have personal knowledge of the economic troubles besetting Greece.
"We are going through the same issues, we are suffering the same problems like Greek people," says Irishman Tom Baily, whose own country was later forced to seek a economic rescue similar to Greece's, as did Portugal.
Eurozone members are to gather on Thursday to try to hammer out a new loan package for Greece after last year's 110-billion-euro ($160 billion) EU and International Monetary Fund bailout, which has been paid in tranches attached to a biting austerity drive.
The second rescue package, potentially of similar size, would aim to ensure Athens can stay afloat until at least 2014 and stem fears of a devastating default that would reverberate across Europe.
But for many Greeks like Dimitris, the bailout will come at an inestimable cost.
"They don't really want to help, they want to grab," he told AFP.
"The Europeans, the Chinese, the Emiratis, all they want is to take everything they can, and the government is selling out the country very cheap," he said, referring to a huge fire sale of state assets to raise 50 billion euros by 2015 and reduce Greece's enormous debt of over 350 billion euros.