Michael Jackson took the final curtain call of his glittering career in a star-studded farewell that culminated with a heartbreaking tribute from the tragic King of Pop's daughter.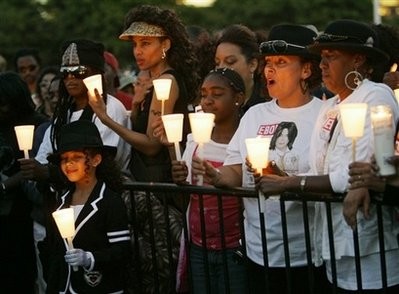 Several hundred fans hold a candlelight vigil for pop star Michael Jackson in front of the Rock and Roll Hall of Fame in Cleveland Tuesday, July 7, 20.
Tears and eulogies flowed as mourners including rock stars and athletes gathered Tuesday at the Staples Center in Los Angeles for a memorial watched by an estimated worldwide audience of several hundred million.
The two-hour celebration of Jackson's life ended with a moment of gut-wrenching poignancy as the superstar's 11-year-old daughter Paris unexpectedly addressed the audience from the stage.
"Ever since I was born, Daddy has been the best father you could ever imagine. And I just wanted to say I love him so much," the youngster said before dissolving into tears and being consoled by aunt Janet Jackson.
Jackson's final journey -- 12 days after his death in Los Angeles at the age of 50 -- began with a private service shortly after 8:15 am (1515 GMT) at the picturesque Forest Lawn mortuary in the Hollywood Hills.
The singer's ornate golden casket -- covered with a mound of red roses -- was then loaded into a black hearse under the watchful eye of around 20 media helicopters hovering overhead.
A motorcade made a stately procession to the 20,000-capacity arena, where family, friends and celebrities rubbed shoulders with ordinary fans who had won tickets via an online lottery.
Jackson's coffin was placed at the front of the stage as the service began with Motown legend Smokey Robinson reading letters of condolence from those unable to attend, including former South African president Nelson Mandela.
"Michael was a giant and a legend in the music industry. And we mourn with the millions of fans worldwide," Mandela's tribute read.
Motown diva Diana Ross -- named by Jackson in his will as an alternative guardian to his children -- meanwhile said she had chosen to mourn privately.
"Michael was a personal love of mine, a treasured part of my world, part of the fabric of my life," Ross's tribute said.
Jackson's long-time friend Elizabeth Taylor also opted to stay away.
"I just don't believe that Michael would want me to share my grief with millions of others. How I feel is between us. Not a public event," Taylor said in a message on the Twitter micro-blogging site.
Tributes to Jackson from friends and associates were punctuated by performances from Mariah Carey, Stevie Wonder and Jennifer Hudson among others as Jackson's family looked on approvingly.
Jackson's brothers all wore matching suits, dark glasses and a replica of their sibling's signature solitary sequined glove.
One of the biggest ovations came after rousing remarks by Reverend Al Sharpton, who told Jackson's children to disregard the lurid stories that often swirled around the man disparaged by tabloid critics as "Wacko Jacko."
"I want his three children to know -- there weren't nothing strange about your daddy," said the veteran African-American civil rights activist. "It was strange what your daddy had to deal with but he dealt with it."
The service drew to a close with a performance of Jackson's 1992 clarion call to end global suffering, "Heal the World," before members of the star's family offered individual tributes.
The exact location of Michael Jackson's final resting place remains shrouded in mystery, with the family declining to comment as media reports said the coffin was being taken to an unknown location.
Fans meanwhile were left praising the slick execution of the service. "It was very fitting. It was a celebration, yet it was humble," said Wayne Darrington, 20.
Streets surrounding the Staples Center were sealed off as thousands of police officers were deployed to guard against crowds of ticketless fans. However fans heeded warning to stay away and the event passed without incident.
A live feed of the service was made available free to television networks, while the event was being streamed via social networking websites Facebook and MySpace, officials said.
Facebook said around one million members worldwide weighed in online with comments while watching live streaming video of the, with "update" messages were fired off at feverish rates.
Live online video event specialty firm Ustream reported hosting almost 4.6 million streams of the service to an audience around the world.
Fans gathered to sing Jackson's greatest hits and watch his videos ahead of the event in cities across the globe such as Tokyo, Hong Kong and Berlin.
Jackson sold more than 750 million albums during a four-decade career that was ultimately overshadowed by repeated allegations of child abuse, his startling physical transformation and eccentric behavior.
Local and federal law enforcement agencies continue to probe the circumstances of his death on June 25 at the age of 50.
The Los Angeles County Coroner's office has said it will not issue a final cause of death for "several weeks" when the results of exhaustive toxicology tests are known.
Lawyers meanwhile are busy untangling the labyrinth of legal issues that have emerged in the aftermath of Jackson's death.
On Monday, a Los Angeles judge replaced Jackson's mother as temporary administrator of his estate with two of the pop icon's business associates, as instructed by a 2002 will.