The head of Britain's military insisted the Taliban were losing the fight in Afghanistan, as London reflected on one of the most tragic days for its troops in decades.
Air Chief Marshal Jock Stirrup admitted it was "tough going" in Afghanistan after eight soldiers were killed within 24 hours, taking the British military death toll higher than in Iraq.
The spike in fatalities means Britain has now lost 184 troops in Afghanistan since operations began in 2001 -- surpassing the 179 killed in Iraq since the US-led invasion in 2003.
"It's tough going because the Taliban have rightly identified Helmand as their vital ground," Stirrup said in a televised statement, referring to a volatile southern province.
"If they lose there then they lose everywhere and they are throwing everything they have into it. But they are losing and our commanders on the ground are very clear of that," he said.
"But it's going to take time and alas it does involve casualties."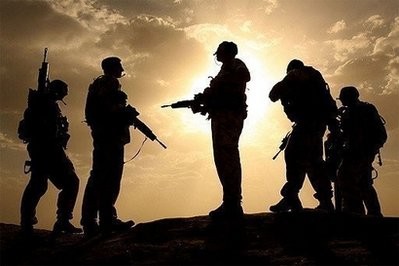 British soldiers are silhouetted against the sky in Afghanistan
Britain's death toll has increased sharply since its launched Operation Panther's Claw three weeks ago, a major assault against Taliban insurgents in Helmand.
Friday's British deaths brought the toll to 15 within 10 days. Britain has 8,300 troops in Afghanistan, the vast majority in Helmand.
"The mission in Afghanistan is about supporting the delivery of governance in order to reduce the opportunities for extremist terrorist groups who are a direct threat to the United Kingdom, its citizens and their interests," Stirrup said.
He said Panther's Claw was designed to bring up to 100,000 Helmandis within the "security envelope".
British Prime Minister Gordon Brown warned Friday of a "very hard summer" in Afghanistan, but said it was vital the international community maintained its commitment to bring stability to the country.
The men killed since the start of July also include the highest-ranking British soldier to die in action since the 1982 Falklands War, Lieutenant Colonel Rupert Thorneloe.
In the latest deaths the Ministry of Defence (MoD) said five soldiers from The 2nd Battalion The Rifles were killed Friday in two separate explosions while on the same patrol near Sangin in the troubled southern Helmand Province.
Meanwhile a soldier from the 2nd Royal Tank Regiment was killed in an explosion near Nad Ali in central Helmand.
It was announced earlier Friday that a soldier from the 4th Battalion The Rifles was killed Thursday in a "contact explosion" while on a foot patrol in Helmand.
The MoD also announced that a soldier from the Princess of Wales's Royal Regiment attached to 1st Battalion Welsh Guards, died Thursday in a gun battle with insurgents near Lashkar Gah in Helmand.