HERAT, Afghanistan, Sept 17, 2010 (AFP) - The Taliban have kidnapped eight Afghan election officials and 10 campaign workers ahead of weekend polls, an official said Friday.
"They were kidnapped last night by the Taliban," the head of the Independent Election Commission in northwestern Bagdhis province, Abdul Rahman, told AFP.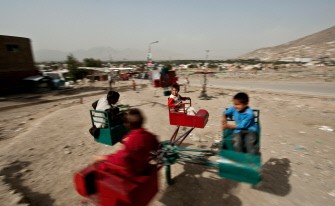 Afghan children ride a merry-go-round in the old city of Kabul on September 17, 2010. The Taliban threatened September 16 to attack polling stations. AFP
Afghanistan is due to go to the polls on Saturday to elect 249 members of the lower house of parliament, in a poll the militants have promised to disrupt with violence and intimidation.
A Taliban spokesman told AFP on Thursday that polling centres, election workers and security forces would be targeted on polling day, and warned that voters who dare to try to cast ballots "will get hurt".
More than 2,500 candidates are standing nationwide for 249 seats in the lower house of parliament, the Wolesi Jirga.
The 18 men were seized in the Muqur district of Badghis, Rahman said.
Mohammad Shah Hanzala, the district governor, confirmed the incident and said the abducted men had been taken to a Taliban-dominated region of the same province.
Tens of thousands of Afghan security forces were on high alert Friday as election officials in Kabul said preparations for the vote were complete.
NATO's International Security Assistance Force (ISAF) said it was prepared to back up Afghan forces in the case of "emergencies".