Two women among the 23 South Koreans kidnapped by the Taliban in mid-July were freed Monday on a rural roadside and then driven to a U.S. base, the first significant breakthrough in a hostage drama now more than three weeks old.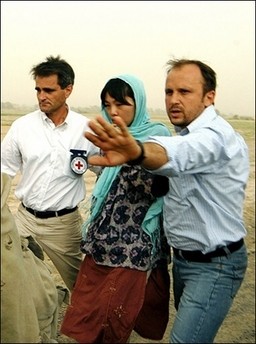 A man from ICRC puts his hand infront of the cameras in Ghazni as a South Korean hostages is freed by the Taliban. (AFP Photo)
The two women, who broke into tears after seeing the international Red Cross officials there to take custody of them, got out of a dark gray Toyota Corolla driven by an Afghan elder and into one of two waiting Red Cross SUVs. The women said nothing to reporters alerted to the handoff location five miles southeast of Ghazni city by a Taliban spokesman.
The women — who wore scarves on their heads, khaki trousers and a traditional Afghan shirt that hangs to the knees, were then driven to the U.S. base in Ghazni city, where American soldiers searched them and then let them inside. Both carried bags with them.
The South Korean Foreign Ministry identified the freed hostages as Kim Kyung-ja and Kim Ji-na and called for the release of the other captives. Previous media reports said the two women were 37 and 32 years old, respectively.
The women, who the Taliban have said are ill, were among church group volunteers kidnapped by militants on July 19.
The release is the first breakthrough in the hostage drama, which took a downturn in late July when two male captives were executed by gunfire. Fourteen women and five men are still being held.
The local governor has suggested in the past that the hostage standoff could be solved with a ransom payment.
The Taliban spokesman, Qari Yousef Ahmadi, said on Sunday that the two women would be released in part because they were sick and because face-to-face negotiations that began on Friday were going well.
The two women were brought to the arranged meeting point on the side of a road in rural Ghazni province by an Afghan named Haji Zahir, who also got into the Red Cross vehicle with the freed hostages.