At least 10 Taliban militants -- including suicide bombers -- were killed Saturday in a failed attempt to storm two US-run bases in a volatile town in eastern Afghanistan, NATO said.
A statement by the International Security Assistance Force, NATO's mission in Afghanistan, said that its troops had "repelled two failed attacks at bases in Khost" town after these had come "under indirect and small arms fire."
ISAF said at least 10 insurgents were killed and "several" more captured.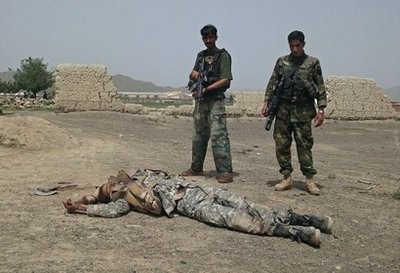 Afghan National Army (ANA) soldiers stand guard next to the body of a suicide attacker near US military camp Salerno on the outskirts of Khost city
Local police chief Adbul Hakim Is'haqzai said the assault was foiled after militants attacked Forward Operating Base (FOB) Salerno before retreating to occupy a secondary school near Camp Chapman -- a smaller US outpost in Khost city, the provincial capital.
In December Camp Chapman became the scene of the worst attack on US intelligence officials since 1983, when seven CIA agents were killed.
Saturday's assault began when insurgents launched rockets and gunfire on FOB Salerno in the early hours of the morning, Is'haqzai said. He said the attackers had then turned on Chapman, closer to the city.
"The attack has been foiled," Is'haqzai said. "We have recovered 14 bodies, those of Taliban who were killed fighting. Five Taliban have been captured alive."
The fighting lasted for several hours with the remaining Taliban attackers shooting at security forces from positions in a corn field near the school that had been attacked earlier, he said.
The police chief said the Taliban death toll was likely to rise as a search operation continued.
He said that two vehicles used in the attack had been seized, one of which was "packed with explosives" and which security forces were working to defuse.
The police chief could not say how many militants had carried out the attack, but another police official, who did not want to be named, said there were about 20 to 25, "most of whom have been killed."
Residents of Khost reported hearing gunfire.
"There are gunshots being heard all around my home. I'm scared of the attackers entering my home and of being bombarded by coalition forces," said resident Amir Shah, whose home is near the Gharghast High School in Khost.
Taliban spokesman Zabihullah Mujahed contacted AFP to say the insurgent group had despatched suicide bombers to the base.
"Twenty-eight Taliban suicide bombers have launched an attack on a coalition base in Khost," he said from an undisclosed location.
"They have entered the base," he said.
The Taliban are known to exaggerate their claims.
FOB Salerno was visited on August 19 by the commander of international forces in Afghanistan, US General David Petraeus, where he met the 3rd Brigade Combat Team of the 101st Airborne Division, which he formerly commanded, according to a statement on ISAF's website.
Petraeus told them: "You are all in a tough neighbourhood and in a very challenging environment. You are faced with extreme terrain, tough weather and tough enemies.
"The insurgents you face most in this area are very tough fighters, they are experienced, generally pretty well-equipped and they know the neighbourhood," he told the troops.
Petraeus commands almost 150,000 US and NATO soldiers in Afghanistan, fighting a vicious Taliban-led insurgency that is most intense in the south and east of the country.
Khost borders Pakistan which is widely believed to be a key source of fighters, funds and supplies to make Taliban bombs.
Also on Saturday, ISAF said three insurgents including a rebel commander were killed in a precision airstrike near Selarno. It did not say if they were linked to the earlier attack on the base.
"Mudasir... had direct ties to Haqqani Network senior leadership based in Pakistan and was a teacher at a madrassa known to facilitate suicide bombers," the force said in a statement, referring to the dead rebel.
The Afghan interior ministry meanwhile said that police in northern Afghanistan repelled a militant attack on their post, killing nine attackers.
Northern Afghanistan had been spared the worst of the violence which has gripped the south and east of the country, until around two years ago when the Taliban began gaining a foothold in the region.