Syrian Foreign Minister Walid al-Moallem said Thursday that Syria is willing to enhance cooperation with China on the basis of mutual benefits.
Moallem made the pledge during a meeting with Wu Sike, China's Special Envoy to the Middle East, and both sides discussed bilateral relations and the latest situation in the Middle East region.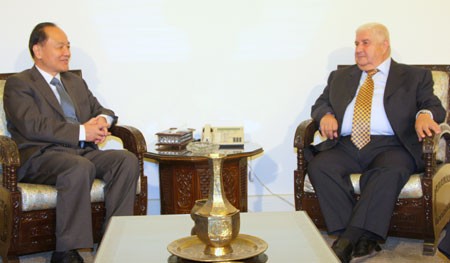 Visiting China's speicial envoy on Middle East affairs Wu Sike (L) meets with Syrian Foreign Minister Walid Mualem in Damascus, capital of Syria, July 30, 2009
Wu reiterated that China supports Syria's commitment to achieving a just and comprehensive peace based on the relevant UN resolutions.
"The meeting with Minister al-Moallem focused on bilateral relations and the changes and developments in the region, where both sides expressed mutual support for the efforts in this regard to find a solution for the Middle East problem," Wu told reporters following the meeting.
"I expressed gratitude to Syria, the government and people, for its support to China in a number of issues concerning China's sovereignty and territory integrity," the senior Chinese diplomat said.
"We have distinguished relations with Syria and we are proud of these relations. However, we need to make efforts to develop bilateral relations further through political, economic and cultural cooperation and coordination in the international arenas," Wu added.
Wu Sike arrived in Damascus on Thursday. As the special representative of the Chinese Foreign Minister, he had visited Algeria and Qatar before reaching Syria.