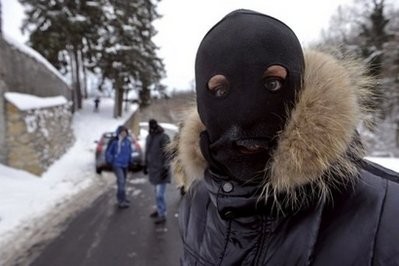 File picture of counter-terrorist police in France (AFP file)
BORDEAUX, France (AFP) – French anti-terrorist police on Thursday arrested the suspected military chief of the Basque separatist group ETA, Mikel Karrera Sarobe, police sources said.
Two other suspected ETA members -- also Spanish nationals -- were arrested with Karrera Sarobe when detectives and anti-terrorist police raided a house in the southwestern French city of Bayonne at daybreak, the sources said.
They were a man and a woman, and one of them is suspected of being the number-two figure in ETA's military branch, the sources said, adding that weapons had been seized.
Two further arrests were made in the Bayonne area, one source said, without giving details.

Cooperation between Madrid and Paris has in the past two years led to the arrests of five top ETA leaders in France, which the group has long used as a rear base from which to stage attacks in Spain.
Karrera Sarobe, alias Ata or "duck" in the Basque language, was identified as ETA's new military leader on a revised most-wanted list issued by Spanish police on March 16 in their pursuit of ETA militants.
ETA -- classified as a terrorist group by the European Union, and held responsible for the deaths of 828 people in a violent campaign for Basque independence -- has carried out no attacks on Spanish soil since August 2009.
But it is blamed for the March 16 killing of Jean-Serge Nerin a 52-year-old French police brigadier during a shoot-out in the Paris region that erupted during a standard police identity check.
Police sources told AFP that the second male suspect seized on Thursday is suspected of having been a member of the ETA cell that carried out the March shooting. "We're checking out this link," an officer said.
More than 30 suspected ETA members have been arrested in 2010, including ETA's new leader Ibon Gogeascoechea Arronategui, who was captured in February in northwestern France.