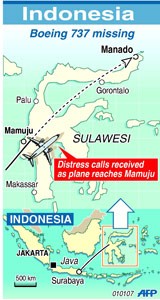 Graphic locating the Indonesian island of Sulawesi where a jetliner went missing.
A passenger jet with 102 passengers and crew slammed into a remote mountainous region of Indonesia but up to 12 people may have survived the carnage, military and police officials said Tuesday.
As search and rescue teams scrambled to reach the crash site on the island of Sulawesi, police said local villagers had reported finding 12 survivors.
The Adam Air Boeing 737-400 crashed Monday after vanishing off air traffic control radar screens between the Indonesian islands of Java and Sulawesi.
Officials said 90 people were killed while an aerial photograph showed the plane was destroyed, an Indonesian army officer told ElShinta radio.
A local police officer said the plane had crashed about 40 kilometres (25 miles) from Polewali in West Sulawesi, some 180 kilometres north of the South Sulawesi provincial capital Makassar.
Antara news agency said it came down near the village of Ramgoam.
"The search and rescue teams are already on their way there to save the victims. So far we've received information that some 90 people have died," Polewali police chief Andry told ElShinta.
It was not known what condition the reported survivors were in.