Around 100 refugees fleeing the unrest in

Libya

died on an overcrowded boat that arrived Thursday at the Italian island of Lampedusa, a survivor told the ANSA news agency after being rescued.
"We were 300, but around 100, especially women, did not survive, and the men were forced to throw their bodies into the sea," the female survivor was quoted as saying.
The Moroccan woman's claim contradicted information provided earlier by Italian coast guard spokesman Vittorio Alessandro, who said 300 badly dehydrated refugees were rescued from the boat after it was discovered 90 nautical miles (167 kilometres, 104 miles) south of Lampedusa.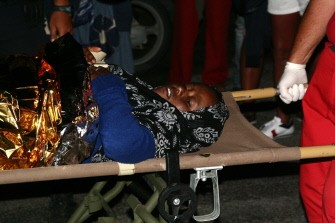 A woman is carried on a stretcher in Lampedusa on August 4, 2011
But Antonio Morana, the commander of the Lampedusa port, said rescue speedboats sent out to assist the refugees "saw clothes floating in the sea in the area where they were operating and maybe also corpses."
Morana said rescue workers were not able to check whether there were in fact bodies floating in the water.
"We had to leave to quickly transport the 300 migrants that were in a precarious state of health," he said, adding that darkness made it equally difficult to scan the water for bodies.
The female survivor was among a group of four women and a man taken by helicopter to a hospital on the island for emergency medical care.
ANSA earlier cited survivors as saying that "dozens and dozens of people" had died of thirst and hunger and were thrown overboard.
Coast guard officials earlier said they had found one body on board the boat that was discovered after it had been drifting for more than 36 hours.
The boat was dragged to the island after it was discovered at sea.
Tens of thousands of African migrant workers from Libya have landed in Lampedusa in recent weeks.