WASHINGTON, May 20, 2010 (AFP) - North Korea's alleged sinking of a South Korean warship is set to dominate US Secretary of State Hillary Clinton's Asian tour after she leaves Washington on Thursday.
The culmination of the investigation into the sinking of the Cheonan has thrust its way to the top of Clinton's program, which was originally to center on the US-China economic and strategic dialogue in Beijing on May 24-25.
A multinational team of investigators concluded it was indeed a torpedo fired by a North Korean submarine that sank the South Korean warship, killing 46 sailors in one of the country's worst naval tragedies.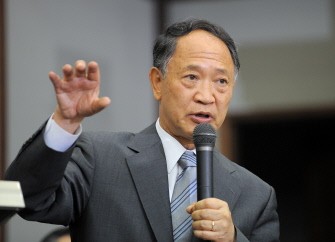 Yoon Duk-Yong, co-head of the team investigating the sinking of the South Korean warship Cheonan, talks during a press conference at the Defense Ministry in Seoul on May 20, 2010. AFP photo
"The evidence points overwhelmingly to the conclusion that the torpedo was fired by a North Korean submarine," the team said in its report on the March 26 sinking that split the 1,200-tonne corvette in half near the two Koreas' disputed border.
"There is no other plausible explanation."
Kurt Campbell, the top US diplomat for Asia, said "a central issue of discussion" for Clinton's talks with Chinese officials will be "their assessments of developments in North Korea and their reaction to the report."
The ship's sinking is expected to be taken before the UN Security Council.
"One of the reasons Secretary Clinton is traveling to the region, to both Japan and South Korea, is to articulate and put in place a set of responses" to the investigation's findings, Campbell said of the chief US diplomat's fifth trip to Asia since taking office more than a year ago.
The responses could be presented on May 26 in Seoul, the last stop on Clinton's nearly week-long tour that will also take her to Tokyo, Shanghai and Beijing.
Praising the report into the Cheonan's sinking as an "objective and scientific review of the evidence," White House spokesman Robert Gibbs said the United States "strongly condemns" the attack.
According to South Korean media, Seoul could announce joint naval maneuvers in the Yellow Sea, where the ship was sunk.
When she arrives in Tokyo on Friday, Clinton will discuss the sunken ship and the future of the US base at Futenma during talks with her Japanese counterpart Katsuya Okada and Prime Minister Yukio Hatoyama.
In Shanghai, she will spend most of Saturday visiting the US and Chinese pavilions at the World Expo.
The US pavilion tops the list of national displays Chinese visitors want to see, according to market research by Millward Brown.
That represents a major turnaround from just a year ago, when the United States looked like it would be an Expo no-show.