The Iraqi military says a suicide car bomb has exploded in central Baghdad, killing 2 soldiers, four days after the U.S. declared an end to its combat role in the country.
Iraqi military spokesman Maj. Gen. Qassim al-Moussawi says the attacker targeted the former Defense Ministry building in the Bab al-Muadham neighborhood.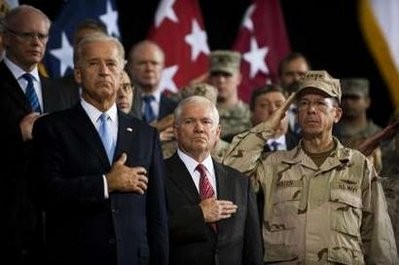 U.S. Vice President Joe Biden (L-R), U.S. Secretary of Defense Robert Gates and Chairman of the Joint Chiefs Admiral Mike Mullen stand during the U.S. national anthem during a change of command ceremony in Baghdad September 1, 2010
Al-Moussawi said on Sunday security forces opened fire on the car as it careened toward the building, which is now the headquarters for the eastern Baghdad military command.
Eight people were also injured in the blast, when the driver triggered the bomb.
Security has been high in Baghdad in past days in anticipation of a new wave of attacks to mark the change in the U.S. mission.