QUETTA, Pakistan (AFP) – Anti-terror police were on high alert in Pakistan on Saturday ahead of mass burials for the victims of a suicide bomber who killed at least 57 people at a Shiite Muslim rally.
The bomber was among a 450-strong crowd marching through the southwestern city of Quetta on Friday and blew himself up as the procession reached the main square.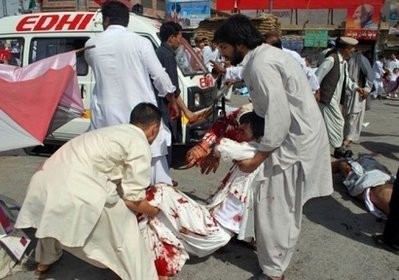 (AFP file) Pakistani men help injured blast victims at the site of a suicide bomb attack in Quetta.
Chaotic scenes followed, with an angry mob starting fires and shooting into the air while others fled or lay on the ground to avoid the gunfire.
"The death toll in the suicide attack is 57," provincial police chief Malik Mohammad Iqbal told AFP.
"Security has been beefed up for the mass burials in the afternoon," he said.
The city was closed Saturday following a protest strike call by the local traders associations, an AFP reporter said.
"Streets are deserted and security forces and personnel of anti-terrorism force are patrolling in different areas," he said.
Iqbal said that so far no arrests had been made and an investigation into the incident was in progress.
Some 197 people were injured in the attack, police official Sardar Khan said.
In northwest Pakistan, at least one man was killed and four wounded Friday when a suicide bomber blew himself up after being apprehended by police outside a mosque of the Ahmadi sect in the city of Mardan, police said.
The attacks were the latest in a string of apparent sectarian bloodshed and came just days after three suicide bombers killed 31 people and wounded hundreds more during a Shiite mourning procession in Lahore. That attack was subsequently claimed by the Pakistani Taliban.
Washington condemned the attacks against religious minorities.
"To target innocent civilians during the Muslim holy month of Ramadan at an already difficult time as the country is working hard to recover from terrible flooding caused by monsoons makes these acts even more reprehensible," the White House said.
Friday's rally in Quetta, capital of Baluchistan province, was held to mark Al-Quds day, an international event staged each year by the Shiite community to oppose Israel's control of Jerusalem and show solidarity with Palestinian Muslims.
Shiite Muslims are a minority in Pakistan, accounting for around a fifth of the country's 160 million population, which is dominated by Sunnis.
Iqbal said rally organisers had been warned to use a different route in case of attacks.
Police were forced to quell unrest after the bombing, Khan said.
"An angry mob tried to set on fire a private building and vehicles. Some of the participants were armed and they were firing in the air. They also set on fire some bicycles and motorcycles," said Khan.
Prime Minister Yousuf Raza Gilani strongly condemned the bombing and called for an immediate inquiry.
Militants have launched a series of attacks as Muslims mark the final days of the holy month of Ramadan even as the country struggles to deal with massive flooding that has killed nearly 1,800 people and left millions reliant on aid handouts.
More than 3,660 people have been killed in a series of suicide attacks and bomb explosions, many of them carried out by the Taliban and other Al-Qaeda-linked Islamist extremists, in Pakistan during the last three years. In May nearly 100 people were killed in Lahore after militants stormed two Ahmadi prayer halls, launching gun and grenade attacks.
Founded by Ghulam Ahmad, who was born in 1838, the Ahmadi sect believes that Ahmad himself was a prophet. Pakistan declared them non-Muslims in 1974 and 10 years later barred them from calling themselves Muslims.