A succession of blasts tore through northwest Pakistan on Thursday killing 13 people, after the Taliban claimed a deadly attack in Lahore and threatened further mayhem to avenge an offensive.
The four bombs wounded more than 100 people in Peshawar and another northwest city, as fears grew of mounting militant revenge for a punishing, month-long military assault against the Islamist extremists.
In the first attacks, devices planted in two motorcycles exploded in quick succession in crowded Peshawar market places, sending smoke spewing into the air and gutting dozens of shops, said senior police investigator Shafqat Malik.
"Eight people were killed and one hundred injured -- 10 of them seriously. People are still bringing the wounded and we've declared an emergency," doctor Alamgir Shinwari told AFP from the main government hospital in Peshawar.
Running gun battles then broke out between police and insurgents in the northwest's biggest city, with two suspects shot dead and two arrested, provincial police chief Malik Mohammad Navid told reporters.
Shortly afterwards, a suicide bomber rammed a car packed with explosives into a police checkpoint on the outskirts of Peshawar, killing one policeman and one civilian and injuring 15 people including civilians, officials said.
In a fourth attack, a policeman and two passers-by were killed and 13 people wounded when a suicide attacker exploded an auto-rickshaw near a police checkpoint in the city of Dera Ismail Khan, about 300 kilometres (186 miles) south of Peshawar, local police chief Iqbal Khan said.
Dera Ismail Khan and Peshawar lie on the fringes of lawless tribal areas along the mountainous border with Afghanistan, where Washington says Al-Qaeda and Taliban militants are holed up, plotting attacks on the West.
"Militants want to terrorise people, they want to demoralise the people... Police in big cities particularly in Punjab (province) and Islamabad are on high alert," Interior Minister Rehman Malik told the private Dawn TV station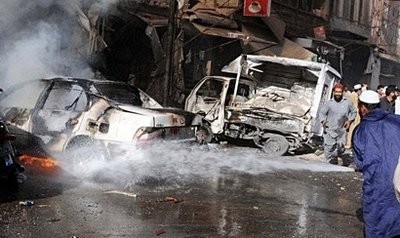 A Pakistani firefighter extinguishes burning vehicles at the site of a bomb blast in Peshawar.
A spokesman for Pakistan's most wanted man, Taliban commander Baitullah Mehsud, earlier warned of more "massive attacks" in retaliation for Islamabad's ties with Washington and its northwest offensive against militants.
The warning followed Wednesday's gun, grenade and bomb attack in Lahore, the third deadly assault to rock Pakistan's cultural capital in three months.
About 300 people were wounded when a van packed with nearly 100 kilograms (220 pounds) of explosives levelled a police building and damaged the provincial headquarters of the Inter-Services Intelligence (ISI).
"We claim responsibility for the Lahore suicide attack. It is revenge for the Swat military operation," Hakimullah Mehsud said from an unknown location.
Baitullah Mehsud commands Tehreek-e-Taliban (TTP) and is Pakistan's most wanted militant, with a five-million-dollar reward posted by the United States.
"If the government -- at the behest of America -- launches more operations against us, more government installations will be targeted," Hakimullah Mehsud, who is a commander and deputy to Baitullah Mehsud, told AFP.
"I appeal to them (citizens of Pakistan) to vacate their cities as there will be more such massive attacks, more dangerous than this and we will target government buildings and places," Mehsud added.
He also claimed responsibility for an assault on a police academy near Lahore on March 30, one of an increasing number of Islamist attacks that have killed more than 1,900 people across Pakistan in less than two years.
Security forces have been locked in battle with Taliban militants in the northwestern Swat valley -- an offensive that the authorities say has killed more than 1,200 extremists and sent 2.4 million people fleeing.
Analysts said that the real cost of the operation might have only just begun, warning that the Taliban would make good on further threats of violence.
"The militants want to weaken the state, demoralise the nation and get publicity by attacking security forces," defence analyst Talat Masood told AFP.
In and around Lahore, Pakistan rounded up about a dozen suspects in connection with the bomb attack for questioning, a security official told AFP.