BANGKOK, July 1, 2011 (AFP) - Thailand votes Sunday in an election which will test the kingdom's ability to emerge from a long and bloody political crisis, pitting the ruling elite against the disenfranchised poor.
The poll is the first since the country was rocked by its worst civil violence in decades last year, when two months of crippling anti-government protests sparked a military crackdown that left more than 90 people dead.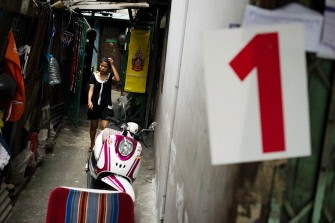 AFP - A woman walk outside her house next to a number 1 campaign billboard for Yingluck Shinawatra Pheu Thai party candidate, youngest sister of ex-prime minister Thaksin Shinawatra, for the upcoming elections in Bangkok on June 30, 2011.
The vote looks set to mark a political comeback for Thailand's fugitive former prime minister Thaksin Shinawatra, who lives in self-imposed exile overseas but has tapped his youngest sister to run in his place.
Parties linked to Thaksin have won the most seats in the past four elections, but the one-time owner of Manchester City football club was ousted in a 2006 coup and the courts reversed the results of the last two polls.
"Thaksin is a champion of elections in Thailand in the 21st century. He hasn't lost an election," said Thitinan Pongsudhirak, a political scientist at Bangkok's Chulalongkorn University.
The former tycoon is seen as the de facto leader of the opposition Puea Thai Party, despite living in Dubai, having fled Thailand in 2008 before a court sentenced him in his absence to two years in prison for corruption.
The 61-year-old remains an idol for many rural and working class voters for his populist policies while in power, but is hated by the ruling elite who see him as corrupt and a threat to the revered monarchy.
Polls show his sister Yingluck Shinawatra, a political newcomer, enjoying a hefty lead over the ruling Democrats led by Prime Minister Abhisit Vejjajiva, who is fighting for his political life after less than three years in office.
"The fact that Yingluck Shinawatra is very popular reflects the fact that Thaksin remains a very legitimate political force in Thai society," said Paul Chambers, a senior research fellow at Payap University in northern Thailand.
In contrast Abhisit's party -- the country's oldest, with a support base in Bangkok and the south -- has not won a general election in nearly two decades.
The British-born premier took office in a 2008 parliamentary vote after a court ruling threw out the previous administration, and he is accused by his foes of being an unelected puppet of the military and the establishment.
Thaksin describes his youngest sister as his "clone" and Yingluck herself is not shy about using her brother's popularity to boost her own support.
In a careful choreographed campaign, she starts her rallies by asking the crowd: "I don't know how much you love Thaksin. But can you share some of this love for me, his younger sister?"
The opposition has proposed an amnesty for convicted politicians if it wins the election -- a move apparently aimed at bringing Thaksin home.
The vote comes at a time of heightened political sensitivity for the country, which remains deeply divided a year after the crackdown on protests in the capital held by "Red Shirt" supporters of Thaksin.
Thailand's widely revered King Bhumibol Adulyadej, seen as a unifying figure in a country that has been frequently riven by political violence, has also been in hospital since September 2009.
The 83-year-old king has been on the throne for more than six decades, making him the world's longest-reigning monarch, and Thailand's post-succession landscape is shrouded in uncertainty.
The royals' staunch military backers also loom large over all elections in a country that has seen 18 actual or attempted coups since the monarchy ceded absolute power in 1932 in favour of a parliamentary system.
Observers say the signs are already ominous: Army chief General Prayut Chan-O-Cha, a fervent royalist, has urged voters to choose "good people", in what was seen as a thinly veiled endorsement of the Democrats.
The army chief has brushed aside speculation the generals could intervene to change the course of history again, but many observers doubt the powerful military is ready to stay in the barracks.
"We've seen the growth of the military as a political force," said Chambers. "If this trend continues, we'll see a more permanent role on the political stage for the military in terms of what happened to Burma in the 1960s."