MANILA, July 17, 2009 (AFP) - Overnight storms brought havoc to the Philippine capital on Friday, causing widespread flooding and forcing schools, offices and the country's stock exchange to close, officials said.
Heavy overnight rains forced all government offices to close and the suspension of elementary and high school classes in the capital and surrounding districts.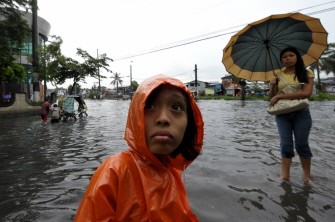 A Fillipino school student wearing a raincoat attempts to maneouver a flooded street following heavy downpours in suburban Malabon city north of Manila July 16, 2009 (AFP photo)
The Philippine Stock Exchange suspended operations mid-morning "due to lack of clearing facilities," as the central bank had curtailed its activities because of the weather.
The government urged private businesses to also close for the day.
Manila pedestrians were seen wading to work knee-deep in dirty brown water.
"Floods in metropolitan Manila can rise swiftly but can also subside quickly so it is hard to say how long these floods will last," said Relan Asuncion, head of a team monitoring the storm's effects.
The tropical storm off the north of Luzon island was reported to be packing maximum winds of 85 kilometres (53 miles) per hour at its centre, with gusts of 100 kilometres.
It was expected to have hit the northern tip of the northern province of Cagayan by midday (0400 GMT) Friday, the weather bureau said.
It was moving northwest at 15 kilometres per hour and was expected to move out to the South China Sea by Saturday.
Residents in low-lying areas were warned to be on alert for flash floods and landslides, the civil defence office said.
Most of the northern Philippines was on the second level of the country's three-stage storm alert system, while provinces just north of Manila were on the lowest warning level.