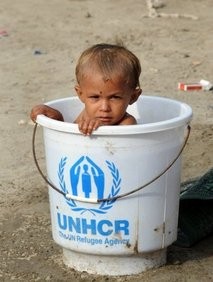 A young boy bathes in a bucket at a temporary camp for displaced Pakistani flood victims in Sukkur. AFP
THATTA, Pakistan (AFP) – Relief efforts in flood-ravaged Pakistan are being stretched by the "unprecedented scale" of the disaster, with the flow of international aid almost at a standstill, the UN said Thursday.
A month of catastrophic flooding has now killed 1,760 people and affected more than 18 million, including eight million who are dependent on aid handouts to survive, it said.
Although the initially slow pace of aid had improved since a visit by Secretary-General Ban Ki-moon in mid-August, the UN said it has "almost stalled" since the beginning of last week, rising from 274 million dollars to 291 million dollars -- about two thirds of funding needs.
"Given the number of those in need, this is a humanitarian operation of unprecedented scale," Manuel Bessler, head of the UN's coordination agency OCHA said in a statement.
"We need to reach at least eight million people, from the Karakoram Mountain Range in the north to the Arabian Sea in the south."
Thousands of people were trapped by floodwaters in towns in the southern province of Sindh, while others are complaining of going without food or water for days, some forced to live in the rubble of their ruined homes.
The World Bank raised its emergency funding for Pakistan to one billion dollars amid dire warnings about the threat to the country's food supplies.
The floods have ruined 3.6 million hectares (8.9 million acres) of rich farmland and the UN's Food and Agriculture Organisation (FAO) said farmers urgently needed seeds to plant for next year's crops.
"Unless people get seeds over the next few weeks they will not be able to plant wheat for a year," Daniele Donati, director for FAO emergency operations in Asia, the Middle East and Europe, said on Wednesday.
"Food aid alone will not be enough. If the next wheat crop is not salvaged, the food security of millions will be at risk," Donati warned.
The World Food Programme has warned that Pakistan faces a triple threat to food supplies -- with seeds, crops and incomes hit.
In southern Pakistan, hundreds of hungry and desperate families from a relief camp in the city of Thatta blocked the highway to Karachi for three hours Wednesday, demanding the government provide more food and shelter.
"No food or water has been provided to us for the past two days," Mohammad Qasim, a 60-year-old resident of the flooded town of Sujawal, told AFP.
The protest came as under-fire Prime Minister Yousuf Raza Gilani warned the country faced inflation of up to 20 percent and slower economic growth because of the floods, warning of job losses and social unrest.
Gilani said an inflation target of 9.5 percent for 2011 would now likely be in the range of 15-20 percent, spurred by food shortages, while GDP growth would also slide to 2.5 percent from the predicted 4.5 percent.
World Bank chief Robert Zoellick announced an extra 100 million dollars to add to an existing 900 million dollar loan as he met Pakistan's Finance Minister Hafeez Shaikh in Washington on Wednesday.
Zoellick said he and Shaikh discussed plans for institutional and governance reforms in Pakistan in the wake of the disaster.
The World Bank pledged to help Pakistan set up systems for tracking aid flows, and monitoring and evaluating the whole process to tackle waste and corruption.
Floodwaters moving south through Sindh province on their way to the Arabian Sea entered the town of Jati and threatened nearby Choohar Jamoli town on the east bank of the swollen Indus.
Several thousand people were trapped in the two towns, city official Hadi Bakhsh Kalhoro told AFP, and power cuts were hindering rescue efforts.
Most of the 300,000 population of Thatta have returned home, according to officials, after troops saved the city by fixing a breach in river defences.
Sindh is the worst-hit province, with 19 of its 23 districts ravaged as floodwaters have swollen the Indus to 40 times its usual volume.
One million people have been displaced over the past few days alone.
Initial relief efforts are still underway in the country's militant-troubled northwest, nearly two weeks after torrential rains stopped in the region.
The head of the UN refugee agency in Peshawar, the main city in the northwest, said shelter would be provided by next week for 80,000 people cut off from their villages by flooded roads and damaged bridges.
Khalid bin Waleed, a resident of Charsadda, said most of the 350 homes in the village had been destroyed and no government help was forthcoming.
"Now people are living on the rubble of their houses and those better off are camping on their roofs," Waleed said.
"We have not received any help from the government yet. Only charities are helping people in our area and they are doing a really good job."