BRUSSELS, May 5, 2010 (AFP) - Spain does not need the kind of financial bailout package which has been offered to Greece, the EU's Economic Affairs Commissioner Olli Rehn said on Wednesday, damping down market expectations.
"There is no need to propose financial assistance," for Madrid, Rehn told reporters as he unveiled the commission's new economic forecasts for 2010 and 2011.
"No, we'll not do it," he added, in when asked whether the eurozone would be forced to put together the kind of multi-billion euro loan rescue package it is organising for Greece, which is under pressure massively to reduce its deficit and pay down its loans.
Rehn criticised the fierce market speculation which has put Greece in its cross hairs and is seen turning its attention to Spain and Portugal where deficit are also running uncomfortably high.
"There's no limit to the speculation," he complained.
The rumours swirled around the markets on Tuesday, many suggesting that Spain was on the point of turning cap in hand to its EU partners or the IMF, provoking a sharp falls on European stock markets.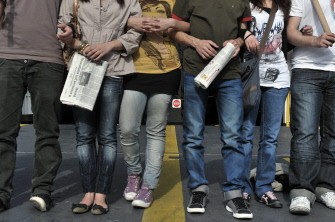 PAME union members block the entrance to a ferry in the port of Piraeus in Greece due to a 24-hours strike on May 5, 2010. AFP photo