South Sudan's legislative assembly has ratified the nation-in-waiting's new constitution, the information minister said on Thursday, denying that it put too much power in the president's hands.
"The new constitution is out," Barnaba Marial Benjamin told AFP.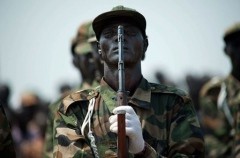 A South Sudanese soldier holds his weapon as he stands to attention during a parade rehearsal in JubaPhoto: AFP
Benjamin insisted that the people of the country had been widely consulted on the constitution and rejected suggestions that it concentrated too much power in the hands of the president.
"That is the choice of the people of south Sudan. They have discussed it democratically in the parliament and they have agreed to it, so that is the constitution," he said.
There has been some controversy in the run-up to the fledgling nation's full independence on Saturday, about the draft transitional constitution with many complaining that non-government figures had been excluded from the consultation process.
Civil society groups have warned that it could tighten the grip on power of the Sudan People's Liberation Movement (SPLM), the ruling party of the south.
On Saturday, the Carter Centre, a monitoring group set up by former US president Jimmy Carter, repeated that warning.
"The current draft of the transitional constitution contains a number of provisions that appear likely to concentrate power in the central government," a statement said.
"Carter Centre staff and observer interviews with government officials, political party members and civil society representatives across the south indicate there is significant support for a decentralised system of government."
South Sudan's president Salva Kiir is expected to sign the constitution during Saturday's independence ceremony.
A draft version of the constitution caused separate controversy in April for stating that the contested border region of Abyei was a part of the south's territory.
Sudan's President Omar al-Bashir said afterwards that Khartoum would refuse to recognise the new state if it insisted on claiming Abyei.
Benjamin denied on Thursday that the disputed region would be unilaterally claimed by the south.
"We don't claim it. We say that Abyei will be included in south Sudan should they vote after the referendum to choose coming to the south," he said.
Last month, the UN Security Council ordered a 4,200-strong Ethiopian peacekeeping force into Abyei to monitor the withdrawal of northern troops who occupied the region on May 21.