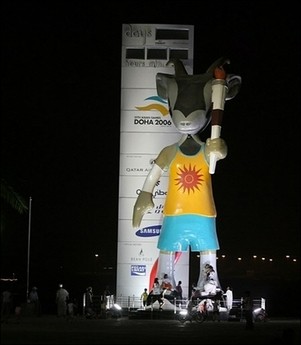 Orry, the mascot for the upcoming 15th Asian Games, in central Doha (AFP Photo)
Athletes from Republic of Korea and Democratic People's Republic of Korea will stage a joint march at the opening and closing ceremonies for the Asian Games despite renewed tensions over the DPRK's nuclear test, a news report said Wednesday.
The South has decided to accept the North's proposal for a joint march at next month's games in the Qatari capital Doha, Yonhap news agency quoted an unidentified unification ministry official as saying.
"There was no reason to reject the proposed non-political sports exchanges, which have nothing to do with the North's nuclear test," the official told Yonhap.
Yonhap said the South would officially inform the North of its decision Thursday. The Asian Games open on December 1.
Yang Chang-Seok, a unification ministry spokesman, told AFP: "Nothing has been decided yet. The government will make an announcement on it soon."
The DPRK's offer was made on November 11 amid heightened tensions following its missile tests in July and nuclear test on October 9.
It proposed a joint march at Doha, followed by a unified team for the 2008 Beijing Olympics.
The two countries, still technically at war, have sent unified delegations to seven international sporting events since the 2000 Sydney Olympics.
International Olympic Committee president Jacques Rogge in September expressed support for a unified team for the 2008 Games. But there have been no official inter-Korean talks since the nuclear test.