South Africa wants to be considered among the leaders of the developing world along with Brazil, Russia, India and China, its president said, pushing for membership of a grouping that has growing global influence.
President Jacob Zuma told reporters Wednesday during a state visit to China that South Africa has discussed its interest in joining the informal grouping of the four major developing nations, known as BRIC, with each member government.
The four nations work to boost trade with each other and have called for developing countries to have bigger role in major global financial decisions, primarily within institutions such as the International Monetary Fund.
Some analysts expect the combined economies of Brazil, Russia, India and China to be larger than the Group of Seven developed economies that includes the U.S. within 25 years if not sooner, making them the dominant global force in everything from trade to finance.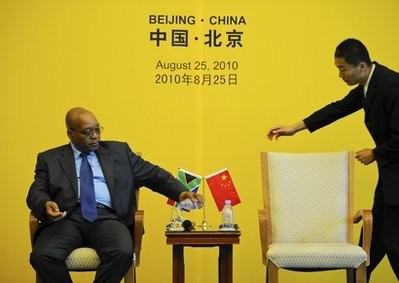 South Africa President Jacob Zuma, left, pours water into a glass as a Chinese waitstaff tries to help him during a news conference in Beijing, China Wednesday, Aug. 25, 2010.
Zuma has already visited Brazil, Russia and India to lobby for a role in the group, which could help raise South Africa's political and economic clout.
"We believe they will take a favorable decision," Zuma said. "We think that the BRIC expresses a very important grouping in a changing world today."
Zuma said there is currently no African member in the informal group. South Africa's "participation in BRIC would mean that an entire continent that has a population of over 1 billion people is represented," he said.
China's foreign ministry said in a faxed response to questions that Beijing understands the desire of some developing countries to join the BRIC grouping and "treats this with an open-minded attitude."
Zuma is on his first visit to China since taking office in May last year and is accompanied by 13 Cabinet ministers and a delegation of 370 business people.
Trade ties between Beijing and Johannesburg have grown rapidly in recent years, with China last year overtaking the United States as South Africa's largest export destination.
South Africa also imports more from China than it does any other country, and last year recorded a $2.7 billion trade deficit with the Asian manufacturing giant — a gap Zuma will be looking to narrow.
South Africa provides iron ore and other vital resources for China but also offers a strategic link to the rest of Africa, where China has been investing heavily in recent years.
On Tuesday, Zuma met with Chinese President Hu Jintao and they signed a "comprehensive strategic partnership" that Zuma said was aimed at balancing trade between the countries and increasing investment in South Africa's manufacturing industry and cooperation in renewable energy.
South Africa says it wants to broaden the relationship with its biggest trade partner from resource exports to partnership in infrastructure and green industries. Companies from both sides signed 12 agreements ranging from memorandums of understanding to possibly develop power grids to memorandums of cooperation to set up a cement plant in South Africa.
Government officials Tuesday signed memorandums of understanding on mining and energy cooperation and transport, among other agreements.