Rahul Gandhi, scion of India's famed Nehru-Gandhi political dynasty, was named Monday as a general secretary of the ruling Congress in a sign the party could be readying for early elections.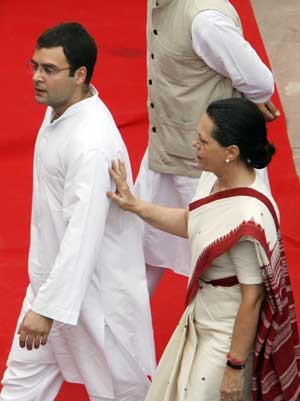 File photo shows India's Congress Party President Sonia Gandhi (R) walking with her son Rahul Gandhi at The Red Fort on the occasion of India's 60th anniversary of independence in New Delhi.(AFP Photo)
The appointment of the telegenic MP, whose mother Sonia holds the powerful job of Congress president, came as the minority government was locked in a standoff with communist allies over a nuclear deal with the United States.
The government's mandate is due to expire in 2009 but many political analysts are betting general elections will come earlier.
"Rahul's leadership right now is very important to lead the country into a next era," Congress Labour Minister Oscar Fernandes said as Gandhi's appointment was greeted with jubilation by supporters outside party headquarters.
Thirty-seven-year-old Rahul, often mentioned as a potential future prime minister, announced last year he was ready to play an active role in the party organisation "if the leadership decided."
Gandhi will also be looking after the youth and students' wing of the party.
His father, former prime minister Rajiv Gandhi, assassinated by a Tamil separatist killer in 1991, also once served as one of the party's general secretaries.
The appointment of Rahul, whose great-grandfather Jawaharlal Nehru, grandmother Indira Gandhi and father Rajiv were all premiers, came amid clamour within the party hierarchy for him to play a greater political role.