Somali pirates hijacked another ship, a Pakistani-owned vessel carrying goods for Somali traders, over the weekend, a pirate commander and a local businessman told AFP Sunday.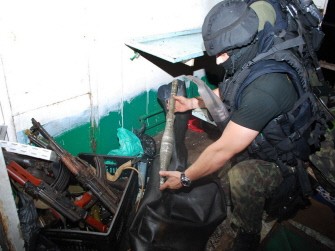 A picture released by the NATO on May 2, 2009 shows military personnel aboard the Portuguese Frigate Corte Real frigate sailing off Somalia looking at weapons seized on a pirates mother ship, on May 1, 2009. (AFP Photo)
The MV Al-Misan was captured around 100 kilometres (60 miles) off the capital Mogadishu, Ahmed Abdi, a pirate commander in the coastal village of Harardhere said. It is carrying vehicles as well as sugar and cooking oil.
"One of the two ships we hijacked yesterday is confirmed to have been chartered by Somali traders and there are already talks to release it. I think it will happen today," Ahmed Abdi told AFP by phone.
Local elders also confirmed the ship was hijacked and that it was headed to Mogadishu from the United Arab Emirates.
One Somali trader with a stake in the hijacked ship's cargo said he was hopeful the vessel would be released soon.
"There are efforts to free the ship and its crew, Somali traders and elders are already negotiating with the pirates and we are hopeful that they will soon release it," Abdullahi Moalim Barre told AFP.
On Saturday, pirates in Haradhere said they had captured two ships.
One of them was confirmed as the MV Ariana, a bulk carrier transporting 35,000 tonnes of soya beans, with owners in the United Kingdom and Greece and a crew of 24 Ukrainians.
Confusion surrounded the identity of the second ship, however, with unconfirmed reports from pirate sources that it was a Ukrainian ship carrying UN vehicles, among other things.
The Al-Misan's hijacking brings to at least 18 the number of vessels currently held by the ransom-hunting Somali buccaneers plying some of the globe's busiest maritime trade routes in the Indian Ocean and Gulf of Aden.