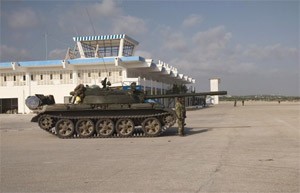 Ethiopian troops pictured at the international airport, Dec. 29 2006 in Mogadishu (AFP Photo)
Islamist fighters abandoned on Monday their last stronghold of Kismayo in southern Somalia after Ethiopian and Somali government troops advanced towards the city, but vowed to fight on.
"Kismayo is already in the hands of the government. The Islamists have run away ... the airport and the seaport are free. They are still some mopping up operations," Somali Prime Minister Ali Mohamed Gedi told AFP in Mogadishu.
He said the toll "is not available yet but there are no big casualties".
The loss of Kismayo caps a major turn of fortune for the Islamists, who last year took control of the capital Mogadishu and much of the country and were closing in on the weak transitional government's last stronghold at Baidoa.
But the intervention last month of Ethiopia's well-equipped armed forces -- a move which has received tacit support from Washington -- enabled the government to turn the tide and force the Islamists on the back foot.
After 10 days of heavy fighting involving Ethiopian artillery, tanks and aircraft the Islamists withdrew from the capital on Thursday.
Islamist leaders then regrouped in Kismayo, some 400 kilometres (250 miles) south of Mogadishu, but were driven on Saturday from Jilib township, about 100 kilometres north of Kismayo.
An Islamist commander, Sheik Yaqub Ishak, confirmed that his forces had left Kismayo, but vowed that his militia would not surrender.
Islamist forces are "still powerful and will not stop fighting the Ethiopian invaders," he told AFP by satellite phone
African and Arab nations have called on the Ethiopian military to withdraw immediately, but the Somali government has insisted the troops will stay as long as they are needed.
Somalia disintegrated into lawlessness after the 1991 ousting of dictator Mohamed Siad Barre. It was carved up among clan warlords, some of whom now back the government.