BANGKOK, Sept 26, 2010 (AFP) - A small bomb exploded outside a horse stables in central Bangkok on Sunday, but there were no reports of injuries, according to police.
The makeshift bomb, hidden in a bag left in front of the gates to the Nang Loeng Horse Stable in central Bangkok, exploded in the early hours of Sunday but caused no major damage, according to Police Colonel Rangsan Praditphol.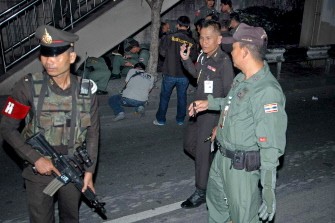 Members of the Thai bomb squad inspect at the site where a makeshift bomb exploded in Bangkok on September 26, 2010. AFP
In recent weeks a series of grenade blasts have hit the Thai capital, which remains under emergency rule following mass "Red Shirt" protests in April and May that left 91 people dead in clashes between troops and demonstrators.
The Red Shirts deny any involvement in the blasts.
On Friday three people were wounded when a small bomb hidden in a rubbish bin exploded in a residential area of Bangkok.
Earlier this month, police defused three bombs discovered across the city within hours of eachother.
One was found in front of a school and another in a shopping mall.
The finds raised further doubts over the speed at which emergency rule can be lifted in the Thai capital, and prompted accusations by the opposition of a government conspiracy to justify greater powers for authorities.