South Korea came under fire for negotiating with Afghanistan's Taliban insurgents as 19 Christians released by the hardline movement enjoyed a first taste of freedom Friday in six weeks.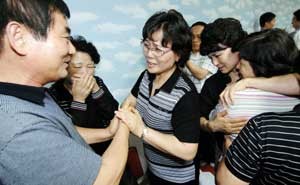 Relatives of South Korean ex-hostages rejoice after the release of the seven remaining people, at the Saem-Mul Presbyterian church in Seongnam, south of Seoul, August 31, 2007 (AFP Photo)
The final seven hostages were handed over to the International Committee of the Red Cross in two groups late Thursday, finally bringing a hostage crisis that had gripped and anguished the nation to a close.
A dozen others had already been freed Wednesday, a day after South Korean government negotiators struck a deal with the Taliban.
Their release has triggered searching questions for the government over the terms of the deal and, for the former hostages, about what they were doing in insurgency-plagued Islamic Afghanistan in the first place.
According to Japan's Asahi Shimbun newspaper, South Korea paid two million dollars to the Taliban extremists.
Citing unidentified sources in Afghanistan, it said that Afghan mediators persuaded South Korea's ambassador in Kabul there was no other way to end the kidnap ordeal.
"Two million dollars was paid to release all 19 people," an Afghan mediator was quoted as telling the influential Japanese daily.
The Taliban, who killed two of the original group of 23 seized in southern Afghanistan on July 19 and then freed two women, released the rest after South Korea promised to withdraw its small military presence by the end of the year and ban missionary groups from going there.
But that was in line with what Seoul had either already planned or ordered, raising questions as to whether there was any other backroom deal.
South Korean officials have not commented on whether a payment was made to any party to help secure the release.
Asked about the Asahi report, a presidential spokesman told AFP that there had been no discussions with the Taliban apart from about the troop withdrawal and the missionary issue.
Afghan Foreign Minister Rangeen Dadfar Spanta said people might think South Korea had handed the hardline Islamic militia a propaganda victory.
German politicians also criticised South Korea's handling of the crisis, with Chancellor Angela Merkel indicating Berlin would stand firm in its refusal to negotiate with the militia.