SEOUL (AFP) – South Korean Foreign Minister Yu Myung-Hwan on Saturday offered to resign after being accused of nepotism over the controversial hiring of his daughter, a spokesman for the ministry said.
"Minister Yu offered to step down, taking responsibility for causing controversy over the issue of hiring his daughter," spokesman Kim Young-Sun told journalists.
Yu on Friday apologised after his ministry hired his daughter for a well-paid job, sparking allegations of nepotism at a time of high unemployment.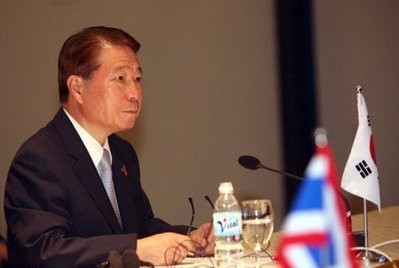 (AFP file) South Korean Foreign Minister Yu Myung-Hwan
President Lee Myung-Bak was expected to accept his resignation, Yonhap news agency said.
"The president is unlikely to reject the resignation offer," a senior official of the presidential Blue House was quoted as saying.
Yu was appointed to the post 31 months ago.
Yu on Friday made a public apology after the Blue House, whose motto is to realise a "fair society," reportedly called for an explanation from the ministry.
But he denied any undue favour had been shown to his daughter during the hiring process.
The ministry this week selected Yu's 35-year-old daughter for a mid-level post.
It extended the deadline for a second application from the usual 10 days to a month, allegedly in order to grant her enough time to come back with proper documents after she failed in an initial test.
Applicants usually have to go through years of preparation for a tough state examination in order to land such a mid-level post at the foreign ministry.
She was among three finalists for the specialist's job and was selected after an interview.
With youth unemployment at around 8.5 percent, the hiring sparked public outrage as the ministry's Internet homepage and other portals were flooded with angry postings demanding Yu's resignation.