SEOUL, Aug 7, 2010 (AFP) - A major South Korean naval exercise went into its third day Saturday, the defence ministry said, as North Korea issued a fresh warning against what it termed "a prelude to a war of aggression".
The drill far south of the disputed maritime border in the Yellow Sea, was focused on defence against North Korea's guided missiles and submarines, the ministry said.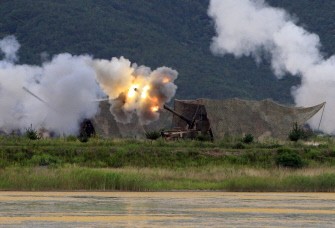 A South Korean Marines K9 Thunder 155mm Self Propelled Howitzer fires during a military exercise in Baengnyeong Island, near the disputed Yellow Sea border between the two Koreas, on August 6, 2010. AFP
The exercise is one of a series planned in coming months in a show of force against the North, which the South blames for a deadly torpedo attack on one of its warships in March.
A total of 4,500 troops, backed by 29 ships and 50 aircraft, are being mobilised for the five-day drill.
"Some 20 Navy ships carried out anti-missile training in the Yellow Sea," a military official was quoted as saying by Yonhap news agency.
Saturday's drill included anti-aircraft and anti-submarine battles in the Yellow Sea as batteries stationed in an island near the sea border continued live-fire training.
Pyongyang has denied responsibility for the March sinking of the corvette Cheonan near the disputed sea border in the Yellow Sea. The incident killed 46 sailors and sharply raised tensions.
Its official daily Rodong Sinmun said on Saturday the naval exercise in the tense Yellow Sea was aimed at triggering an armed conflict to start a war of aggression.
"The anti-submarine exercise... is a prelude to a war of aggression against the North," it said.
The North's military has threatened "the most powerful" retaliation if the South triggers a conflict during the exercise.
"Our warning is not empty talk," the paper said without elaborating.
This week's manoeuvres came after South Korea and the United States last week carried out a massive joint naval and air drill in the Sea of Japan (East Sea).
The joint drill was relocated from the Yellow Sea separating China and the Korean peninsula after Beijing protested.
But Seoul and Washington said future drills would be held in both the Sea of Japan (East Sea) and the Yellow Sea.
Pentagon spokesman Geoff Morrell said on Thursday future joint drills would once again involve the USS George Washington and the aircraft carrier would carry out exercises in the Yellow Sea.