At least 69 Israeli soldiers have been injured, some seriously, as a result of a rocket attack on a military training base, an Israeli Army spokesman said Tuesday.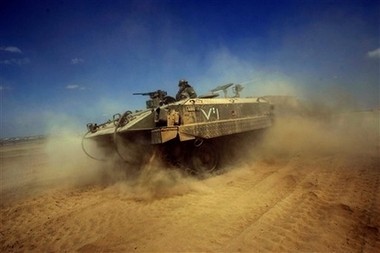 An Israeli armored vehicle makes its way towards the Gaza Strip, at a staging base on the border with Israel, Tuesday, Sept. 11, 2007
The Qassam rocket, launched by Palestinian militants, exploded early Tuesday morning in the center of the Zikim training base, located close to the border with the Hamas-controlled Gaza Strip.
According to the army source, the early-warning rocket system functioned properly, but many soldiers failed to reach a bomb shelter in time. The majority of the soldiers had been sleeping at the time of the attack, the army spokesman said.
As a result of the attack, one soldier remains in a critical condition, and four have serious injuries. Many of the soldiers were reported to require treatment for shock.
The attack is the most serious by a single rocket on Israeli territory from Gaza. Responsibility for the attack was claimed by the Palestinian groups the Popular Resistance Committee and Islamic Jihad, local media reported.
Although Hamas did not participate in the attack, it congratulated the Palestinian people on a "Victory from God."
"Of course, we welcome the attack. We consider it a worthy answer to the crimes of the occupants," said a Hamas spokesman. A spokesman for Islamic Jihad said: "The jihad continues - we have one language, the language of guns and rockets."
In Israel, ground forces attacked the area from where the rocket was launched, injuring four Palestinian civilians. Israel is to discuss its wider response to the attack in a special meeting of the Security Cabinet Tuesday, local radio reported.