Diana Safieh was just seven years old when her family fled their west Jerusalem home on a spring night in 1948 in fear of bloody clashes between Jewish and Arab forces.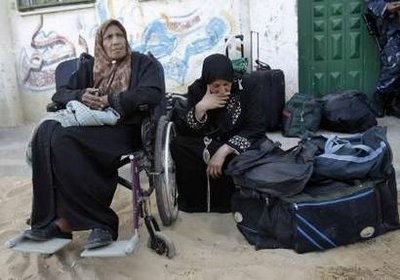 Palestinian women wait to cross the Rafah border crossing in the southern Gaza Strip May 15, 2010. (AFP Photo)
Now at nearly 70, she wants to catch at least a glimpse of a fading memory.
"My father would say: 'We will never leave Jerusalem,'" the elegant and sprightly Palestinian woman from an upper middle-class Christian family tells AFP on an emotional journey of return.
On Saturday, the Palestinians were in mourning to mark the "Naqba," or catastrophe, of Israel's establishment 62 years ago in British-mandated Palestine and with it the exodus of hundreds of thousands of Arab inhabitants.
Safieh remembers that on the morning of May 13, 1948, she was picking flowers for the nuns of Saint Joseph convent.
"If we had known what was to befall us, we would have done something else," she says with a smile. By the end of the day, the house and its furniture as well as money and jewellery in the bank had all been lost.
Panic had been spreading in the neighbourhood for months, with people abandoning homes. "By May 13, it had become unbearable," says Safieh.
In the middle of the night, little Diana and her brother Jean were woken up by their father. The family was packed into the car and sped off to the convent where a relative was a nun.
On May 14, the state of Israel was declared and the first Arab-Israeli war broke out in earnest the next day.
The Safieh family stayed three months at the convent before deciding, like many others, to move to Beirut. Father Emile decided it was time to return nine months later to Jerusalem, where they settled in the Arab eastern sector.
More than 760,000 Palestinians -- estimated today to number more than five million with their descendants -- were pushed into exile by the conflict or driven out of their homes.
"We were very lucky," admits Safieh, whose two brothers live abroad. "We did not end up in a refugee camp, and we had the means to travel and to have an education."
Today she lives in the Beit Hanuna district of east Jerusalem, which Israel captured in the 1967 Middle East war.
Safieh has only seen the old family house once since Israeli independence, and that was a painful experience back in 1967 with parents Emile and Odette, who had both since died.
"I don't know if I will remember it. In '67, there was a palm tree and the house next door had a tiled roof," she says ahead of the trip down memory lane to what it now the upper-class Jewish district of Baqaa.
Street names have changed, floors have been added to some of the stone houses, the Israeli flag flies from windows, especially as Israel celebrated independence last month in line with the Jewish calendar.
After several false starts, circling in the car without success, Safieh steps down and walks up to a two-storey house. "My heart tells me it's here," she says, backing up her instinct with an aging photograph.
The black-and-white shot of the family in the garden shows the metal rods on the window are unchanged.
"My God!" she sighs, with tears in her eyes, happy to have reconnected at least briefly with the family homestead but feeling the suffering of her banished parents.
"I wish them (living in the house) well because it's not their fault. Let them pray for those who had to leave," she says.
The Israeli family are not so keen on the visit. "Let's go. There is no point discussing it. The important people in my life have gone. The rest live abroad. We have to move forward," says Safieh.