Singapore's de facto central bank said it had further tightened monetary policy Thursday in a bid to address a sharp rise in inflation.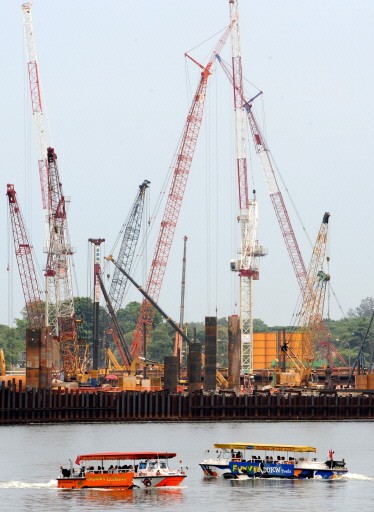 Two tour boats sail past under-construction casino and hotel buildings in Singapore on April 10, 2008. (AFP Photo)
The move sent the Singapore dollar to all-time highs. The city state's currency was worth 1.3601 to one US dollar in mid-day trade, versus 1.3810 late Wednesday.
On April 11 last year, the Singapore dollar was trading at 1.5182 to the US dollar.
In its semi-annual policy statement the Monetary Authority of Singapore (MAS) said consumer prices have risen sharply since the second half of last year, reflecting both external and domestic factors.
From 0.8 percent in the first half of last year, consumer price index (CPI) inflation accelerated to 6.6 percent in January-February, MAS said.
"The escalation in global oil, food and other commodity prices has contributed, directly and indirectly, to the increase in consumer prices," MAS said, adding that higher wages and property rentals have pushed up domestic business costs.
Consumer price inflation is expected to remain high until mid-year, with full year CPI projected above 5.0 percent, it said.
Euston Quah, head of the economics division at Singapore's Nanyang Technological University, earlier told AFP that a strong exchange rate can help mitigate the impact of rising food import costs.
Singapore is an island state with virtually no natural resources which imports almost all its food.
The government on Thursday said Singapore's economy grew at an annual 7.2 percent in the first quarter, faster than the 5.4 percent expansion recorded in the previous three months.
But MAS said the city-state's growth is expected to ease to between four and six percent this year and it noted there are downside risks that reflect "considerable uncertainty on the global economic front."
The MAS conducts monetary policy through the local currency rather than by setting interest rates.
The Singapore dollar is traded against a basket of currencies of the city-state's major trading partners within an undisclosed trading band known as the nominal effective exchange rate (NEER).
Since its last review in October, when MAS slightly tightened policy, the NEER has fluctuated in the upper half of the band, MAS said.
"Against this backdrop of continuing external and domestic cost pressures, an upward shift of the policy band at this point will help to moderate inflation going forward, while providing support for sustainable growth in the economy," it said.
"MAS will therefore re-centre the exchange rate policy band at the prevailing level of the NEER."
Details of the trading band are not made public to prevent speculation in the Singapore dollar.
DBS Group Research said the re-centring means that the lower limit, in US dollar terms of 1.3730 Singapore dollars, is now shifted down to 1.3520.
It said that since the outbreak of a crisis in the US subprime, or higher-risk, mortgage sector last year the Singapore dollar has tracked major currencies including the euro, rather than Asian currencies.
The euro recently surged to record highs against the US dollar and on Thursday was at 1.5840 dollars, up from 1.5827 late Wednesday.