Singapore has hanged two convicted African drug traffickers after their appeals for clemency were turned down and despite protests from rights activists.
Iwuchukwu Amara Tochi, 21, of Nigeria, and 35-year-old Okeke Nelson Malachy, who officials said was stateless, were hanged at Changi prison in the early morning as anti-death penalty campaigners held vigil outside.
"The appeals of both Tochi and Malachy to the Court of Appeal and to the President (S.R. Nathan) for clemency have been turned down. Their sentences were carried out this morning at Changi Prison," the Central Narcotics Bureau said in a statement.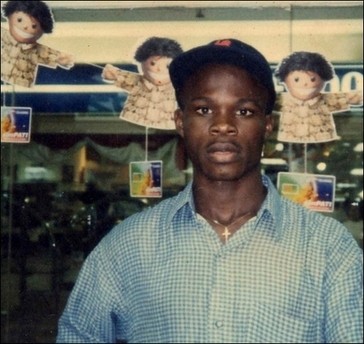 Nigerian Iwuchukwu Amara Tochi was one of the two drug traffickers hanged in Singapore.
Activists had been lobbying the government to halt Tochi's execution, but expressed shock Malachy was also hanged as there had been no word on his case.
"I'm surprised. From what I have heard from... other people, Malachy was not suppose to hang. I was not expecting it," Chee Siok Chin, a member of Singapore's anti-death penalty campaign, told AFP.
Tochi was arrested trying to smuggle 727.02 grams (more than 25 ounces) of heroin through Changi Airport in November 2004, while Malachy, who Amnesty International believes was South African, was charged as an accomplice.
Under Singapore's tough anti-drug laws, the death penalty is mandatory for anyone caught trafficking more than 15 grams of heroin, 30 grams of cocaine or 500 grams of cannabis.
About 10 activists and sympathisers held a somber overnight vigil outside the prison compound, hanging Tochi's football shirt on the wall above photographs of him surrounded by candles.
Shortly after 6:00 am (2200 GMT), the time when prisoners are normally hanged, each protester laid a bunch of red roses in front of the photographs.
On the eve of the hanging, the government released a letter from Prime Minister Lee Hsien Loong to Nigerian President Olusegun Obasanjo.
"Mr. Tochi has committed a serious offence under Singapore law. He was convicted for importing over 700 grams of diamorphine. This amounts to more than 48,000 doses of heroin on the streets, enough to have destroyed many lives and families," Lee said.
"There are no new grounds for the case to be reconsidered and all legal avenues have been exhausted."
Lee said the government "takes a firm stance against drugs to deter Singaporeans and others from importing drugs into Singapore or using the country as a transit hub for narcotics" and has made its position publicly known.